Flooding closes Cornish steam railway track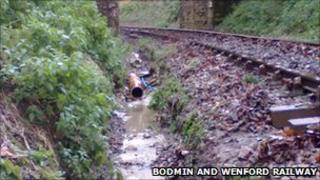 A steam railway in Cornwall has closed a section of its 6.5-mile (10km) line because of the recent severe flooding.
The damage at the Bodmin and Wenford Steam Railway includes tonnes of stones underneath tracks and sleepers - known as ballast - being washed away.
Holes up to 8ft (2.4m) deep have also been gouged out beside the line.
The line between Colesloggett Halt and Bodmin Parkway is expected to be closed for up to four months and repairs could cost tens of thousands of pounds.
'Valuable' ballast
The railway's general manager, Richard Jones, said much of the damage was believed to be a result of water flowing off an overhead road bridge.
The rails themselves and the underlying sleepers were intact, but the other damage was sufficient to halt services.
He said: "The ballast has a valuable role supporting the line and providing drainage.
"It is certainly the most amount of structural damage that the line has experienced in 20 years."
Mr Jones said he was hopeful the complete line would reopen during the first quarter of 2011.
He added that the railway's Santa by Steam special trains in December would still run.
Public transport railway lines have also been affected by the floods last Wednesday, which saw water up to 6ft (2m) deep in places across the county.
The Newquay to Par branch line was closed by mudslides on the track near Luxulyan.
It is not expected to reopen until mid-December, Network Rail said.