Camelford poisoning: 'The contaminated tea just solidified'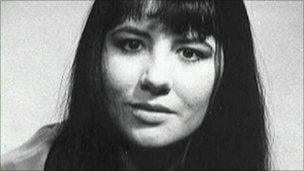 Carole Cross was 59 when she died in 2004 from a rare form of dementia.
She had been drinking contaminated water after an incident at a treatment works in the Cornish town of Camelford in 1988 and a post-mortem examination found abnormally high levels of aluminium in her brain.
Her husband, environmental scientist Doug, said her illness left her "unable to do anything".
Mrs Cross and her environmental scientist husband Doug had been living on the outskirts of Camelford, north Cornwall, when their tap water was contaminated on 6 July 1988.
Mr Cross, 73, said he remembered the first time he made a cup of tea after the incident.
He said: "It was extraordinary. I made some tea and dropped some milk in and instead of turning milky, it stayed the same colour.
"I tipped it out gently into the sink and a blob of what looked like marmalade came out the bottom.
At an inquest in west Somerset into her death on Wednesday, coroner Michael Rose said that Mrs Cross was exposed to an "excessive amount" of aluminium.
He said there was "only a slight possibility" that the aluminium actually caused Mrs Cross's death.
However, in a narrative verdict, he added that more research was needed into its effects on public health.
About 20 tonnes of aluminium sulphate accidentally ended up in the water supply of where the Crosses lived.
Unbeknown to the couple - and 20,000 other people affected - a delivery driver had dumped the aluminium sulphate, an acidic water-cleaning agent, directly into the supply.
The local chemist had many customers asking for treatments for diarrhoea and vomiting.
Other reported incidents included an elderly lady whose hand stuck to her face when she splashed it with water.
One man flushed his toilet and said it resulted in a gas-like fog which caused a severe nosebleed.
The owner of a local pet shop said his guinea pigs died within minutes of drinking the water.
Mrs Cross took a bath a few days later and the water turned bright blue.
Mr Cross said: "I am a biologist and I knew immediately we were dealing with copper pollution.
"But there's no way I could understand how copper could have got into the system."
It was not until two weeks later that the then South West Water Authority confirmed there was a major contamination incident.
Mr Cross said: "When they finally told us it was aluminium sulphate - and 20 tonnes of it - that really flipped me.
"I could not believe that anybody would be so irresponsible as to allow that sort of accident to happen - with the damage we had seen to people and animals - and to keep it quiet for two weeks.
"We have a right to be told what we are being exposed to. We have a right to protect our own health and these people took it away from us."
Mrs Cross died after suffering a rare brain disease usually associated with Alzheimer's.
Mr Cross said his artistic wife first started showing signs of illness 12 to 14 months before she died in Musgrove Park Hospital, Taunton, in 2004 - 16 years after the contamination.
"I started to notice that her artwork was less complex and less detailed," he said.
"She was having problems shopping and, from then on, she just deteriorated.
"Eventually she was unable to do anything."
It was not until after his wife's death that Mr Cross suspected there was a link with the water contamination.
Mr Cross explained to a specialist on the ward at Musgrove Park Hospital that the couple had been living in Camelford at the time of the water contamination.
"He looked at me and said, 'this looks like metal poisoning'.
"Then a German GP said he had seen aluminium poisoning and that was the first time I suspected that there might be a connection."
He said his wife never talked about any suspected link between the Camelford incident and her failing health.
"I believe Carole knew what was going on, but I never discussed it with her," said Mr Cross.
"If somebody came to talk to me about it, she would leave the room."
The South West Water Authority was replaced by South West Water when the water industry was privatised.
South West Water said water treatment had been "transformed" since privatisation and that chemical deliveries were "strictly controlled".
Related Internet Links
The BBC is not responsible for the content of external sites.