Culdrose search and rescue privatisation plans continue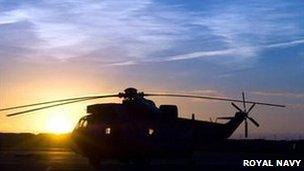 Plans for a private firm to help run search and rescue helicopters from RNAS Culdrose in Cornwall are continuing.
A £7bn contract drawn up for the partial privatisation of the search and rescue (SAR) network in February was suspended by the coalition government.
However the BBC has learned "SAR Harmonisation" may still go ahead, with ageing Sea Kings replaced with private helicopters by 2016.
The Ministry of Defence (MoD) said "all options were being examined".
Under the private finance initiative (PFI) search and rescue operations at Culdrose would be split between Royal Navy and civilian crews.
But following the strategic defence and security review in October, concerns have been raised by military personnel that cutting Royal Navy staff by 3,000 could mean too few naval crews for search and rescue by 2016, which could result in the service wholly privatised.
SAR expert and aviation writer Jim Ferguson said the likelihood was Sea Kings would be replaced by Sikorsky S92 helicopters.
"They are very powerful helicopters and fly about 30 to 30% faster than the Sea King which is obviously creeping towards the end of its life," Mr Ferguson told BBC News.
The MoD said an announcement on the future of the search and rescue service was expected later this year.
Related Internet Links
The BBC is not responsible for the content of external sites.