Weather delays tow of stricken Polish ship to Falmouth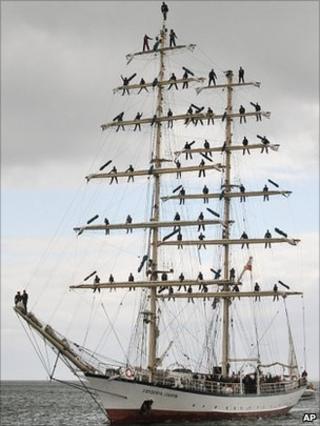 A gale-hit tall ship with 36 teenagers on board is expected to be towed into Falmouth later in the morning.
The Fryderyk Chopin, which lost both its masts, had been due to arrive on Sunday morning, but poor weather has slowed down the rescue.
The vessel was expected to moor on a buoy, with the crew remaining onboard overnight.
The Polish-registered ship got into trouble about 100 miles (160km) south west of the Isles of Scilly on Friday.
There have been no injuries reported among the 47 crew, which includes 36 sailing trainees, all aged 14.
The master of the Fryderyk Chopin requested immediate assistance at 0803 BST on Friday, stating they were experiencing severe weather conditions of gale force nine winds.
Newlyn-based fishing boat Nova Spero attached a line to the vessel and began towing it to shore early on Friday evening.
Coxswain Peter Hicks, of the RNLI lifeboat St Mary's, which spent 20 hours at the side of the stricken ship on Friday, said: "The ship was rolling heavily in a big swell with all the rigging hanging over the starboard side.
"If we were to take anyone off it would have had to have been on the port side in a rise and fall of over 10ft (3m).
"It was a difficult decision not to take anyone off but, basically, the people were safer on the vessel, even though it was in some sort of distress."
The ship is owned by the European School of Law and Administration, a private university based in Poland.