Four new bells cast for Truro Cathedral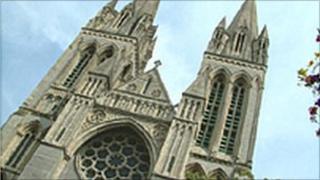 Truro Cathedral is to receive four new bells to celebrate its centenary.
The bells were cast at a foundry in Leicestershire at a cost of £150,000 and will be installed in the cathedral in January.
The bells, once in place, will be Cornwall's only ring of 12 and are expected to attract bell ringers from around the country.
It is hoped that a first ring of the new bells will take place before Easter.
The bells will be on display in the cathedral for a short period and will be blessed during the Sunday Eucharist on 16 January.
Robert Perry, Master of the Cathedral Ringers, observed the casting of the bells at the John Taylor bell foundry in Loughborough, Leicestershire.
He said: "This was a very special occasion for all of us.
"It has been very hard work raising the necessary funds for the bells, especially in these uncertain economic times but it has all been worthwhile."
Truro Cathedral was completed in 1910.