Posters to deter trick or treaters in Cumbria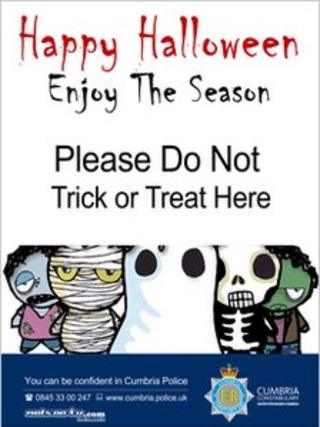 Window posters discouraging "trick or treaters" in Cumbria have been given to elderly residents in Cumbria.
The move, by Cumbria Police, comes as the force has pledged to boost patrols in the run-up to Bonfire Night.
Reports of anti-social behaviour usually go up in the period up to 5 November with police claiming vulnerable people are often targeted.
Officers are also carrying out spot checks on retailers to ensure fireworks are not being sold to any children.
A Cumbria Police spokesman said: "Traditionally, calls to police about youth anti-social behaviour can increase at this time of year.
"Some young people can take the spirit of Halloween and Bonfire Night too far and end up causing trouble or intimidating vulnerable members of their neighbourhood.
"We are supporting our local communities as much as possible and policing teams have been issuing free posters to people who don't want to be disturbed over Halloween.
"We are working closely with local retailers and licensees who are actively helping us ensure fireworks and alcohol do not get into the hands of those under the age of 18."