Vandals in second attack on Bake Farm in Cornwall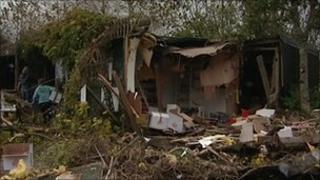 A Cornwall farm has been targeted by vandals for the second time in less than a week.
Thieves stole a 20-tonne excavator from Bake Farm at Trerulefoot and ploughed it into a small fishing shop based on the farm, causing damage estimated at thousands of pounds.
Last Sunday vandals stole a tractor and destroyed nine bee hives on the farm, killing more than 2,000 bees.
Bake Fishing Lake is still open for business while police investigate.
Farmer Jon Bond said: "Its difficult enough running a business in these times, you don't need this happening."