Polish tall ship towed to safety after losing masts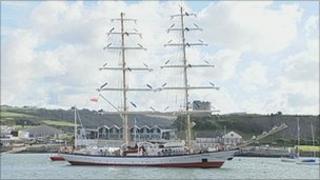 A tall ship with 36 teenagers on board which got into difficulty after losing its masts in gale force winds and heavy Atlantic seas is being towed to safety.
The Polish-registered training vessel Fryderyk Chopin lost the masts about 100 miles (160km) south west of the Isles of Scilly.
There have been no injuries reported among the 47 crew, which includes 36 sailing trainees, all aged 14.
Coastguards in Falmouth are co-ordinating the towing operation.
The ship is owned by the European School of Law and Administration - a private university based in Poland.
The master of the 180ft (55m) long square rigger requested coastguard assistance at about 0800 BST after it lost the first mast, which was 120ft (37m) high, in southerly force nine gales.
Ship 'windbreak'
The second mast was lost several hours later.
The vessel has an engine but the skipper was reluctant to use it in case debris and rigging from the masts got caught in the propeller.
A container ship, the MSC Narissa, responded to coastguard calls for assistance and acted as a windbreak to shelter the ship from the weather.
A bulk carrier, a lifeboat from the Isles of Scilly and a large fishing vessel also responded to an appeal for assistance.
The Newlyn Fishing Vessel Nova Spirro attached a line to the vessel and began towing it to shore early on Friday evening.
The tall ship's owners have arranged for a salvage tug from Alderney to meet it en route.
'No immediate danger'
Katarzyna Zajac, who is representing the owners, said that "very hard weather conditions and high waves" had caused the ship's problems.
She told the BBC that the owners had arranged for the vessel to be towed into Plymouth and that the trip was expected to take about three days but was dependent on the weather.
James Instance, rescue centre manager at Falmouth Coastguards, said: "One of the masts was under strain and broke and that may well have affected the stability of the interconnection of the other rigging on board."
Helen Hudson, south west coastal safety manager for the Maritime and Coastguard Agency, added that the operation had become "a salvage mission".
She said: "There is no immediate danger to life at the moment and the captain is adamant they are all safe and well on board."