Mother and son revisit Penlee RNLI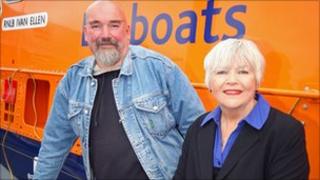 A woman who gave birth to her son on board a merchant ship off the Cornish coast 50 years ago has revisited the area.
Anne Noonan gave birth to her baby boy Timothy after going into labour on a banana boat on passage from the Canary Islands.
Mother and baby were brought ashore by the Penlee lifeboat, Solomon Browne.
Both of them were special guests of the Penlee crew in west Cornwall.
Ms Noonan was 20-years-old when she gave birth to a baby boy on 25 September 1960.
Her father worked in the banana trade and had taken his family with him on a business trip.
They were on their way home onboard the MV Fravizo from the Canary Islands to Liverpool when Ms Noonan gave birth to Timothy.
In need of a medical check up, she and her son were transferred from the ship to the shore by the crew of the Penlee lifeboat, Solomon Browne.
On Saturday she and her son returned to say thank you.
Ms Noonan said: "My son was lowered from the ship to the lifeboat in a fish basket and I was stretchered from one vessel to the other.
"Both the Dutch crew of the Fravizo and the lifeboat crew were wonderful.
"I was pretty scared at the time and they were very reassuring."
Eight crewmen of the Solomon Browne lost their lives 22 years ago as they tried to save the crew of a cargo ship in 1981.
Ms Noonan said: "We were both devastated when the Solomon Browne was lost with all hands as somehow we regarded the lifeboat as ours."