Cornish soldiers honoured for battlefield bravery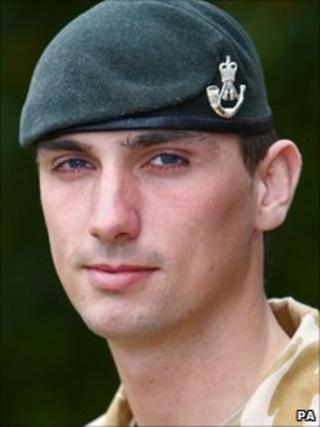 Two soldiers from Cornwall are being honoured with the Queen's Commendation for Bravery (QCB) in the Ministry of Defence's latest honours list.
On three separate occasions, Rifleman Peter Matthews, 21, from Saltash, raced into minefields in Afghanistan to help comrades injured by improvised bombs.
Capt Daniel Read, of the Royal Logistic Corps, receives the award posthumously.
He dealt with 32 improvised explosive devices (IEDs) in Afghanistan before being killed in action in January.
The soldiers are among 131 service personnel being honoured for acts of bravery in the latest Operational Awards List.
The QCB is awarded for specific acts of bravery during active service.
'Utterly selfless'
Rifleman Matthews' citation states: "To carry out such actions would be noteworthy; to have done this three times is quite extraordinary."
In late 2009, while on patrol in Sangin District, a bomb disposal expert died when he set off an IED.
Rifleman Matthews, from 4th Battalion The Rifles, rushed to attend to the casualty and helped lead two other soldiers to safety.
In a later incident, two Afghan members of a patrol he was with in Sangin were injured by IEDs.
The soldier was first to reach them and administered life-saving first aid before medics arrived.
Then, earlier this year, an Afghan soldier with Rifleman Matthews' platoon accidentally detonated an IED.
Again the rifleman was first to the scene and administered first aid, this time while under enemy fire.
The citation for Rifleman Matthews' award stated: "His behaviour throughout has been utterly selfless. His first-aid skills have undoubtedly saved lives.
"And he has done it all in the face of a persistent enemy threat that has been both seen and unseen, across a time period that would have worn down a lesser man."
Capt Read, from 11 Explosive Ordnance Disposal Regiment, died in the Musa Qala area of northern Helmand.
The 31-year-old bomb disposal operator, whose funeral service was held at Truro Cathedral, had just returned to the front line in January after being injured in another blast in October 2009.
At the time of his death, his commanding officer, Lt Col Gareth Bex, said: "He epitomised the values of selfless commitment, loyalty and deep-seated courage."