Tribute to Launceston shop-front car death driver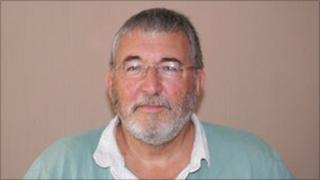 The daughter of a man who died when his car crashed into a shop in the centre of Launceston has paid tribute to him.
Phillip Lewitt, 62, died in the collision on Friday afternoon.
Mr Lewitt had been leisure manager for the former North Cornwall District Council, a sports coach and a local supporter of music and the arts.
Beth Lewitt, one of his four children, said he was always encouraging campaigns for change.
'Make it happen'
She said: "As a dad, he was a legend. He was a really funny guy.
"He was always trying to do everything for everybody else, and was also very much someone who said, 'Go on, just do it. You can do it. If you believe it, you can make it happen'.
"He was always behind you. He wanted us to be fearless. He wanted us to believe that it was our community and we had the right, as anyone has the right, to be the change you wanted to see in the community. He was always up for a campaign, a mission or a group."
Mr Lewitt's Nissan hit Blades hairdressers on Friday afternoon before sliding about 150 yards (135m) down the road and hitting the Westgate Centre.
The car ended up on its side and much of the town centre was closed off for five hours to allow an investigation.