Busy summer for South West's RNLI rescue teams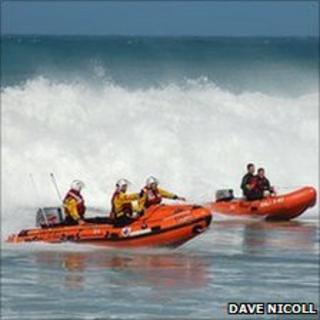 Lifeguards and lifeboats in the south-west of England have had a busy summer - responding on average to 100 incidents a day for three months.
Preliminary figures, which have yet to be verified. indicate that from June to the end of August RNLI lifeguards responded to 8,581 cases.
The statistics also revealed that lifeboats attended 695 incidents.
The regional figures equate to a rise of nearly 5% compared with the same period last year.
Of the region's 35 lifeboat stations, the busiest were Poole with 79 launches followed by Plymouth with 49 launches.
The statistics also revealed that of the 92 lifeguard patrolled beaches in the South West, Cornwall's Perranporth was the busiest with 561 incidents, followed by Bournemouth East with 397 incidents.
Volunteers appreciated
Steve Instance, RNLI divisional lifeguard inspector, said: "Across the South West the number of incidents the RNLI lifeguards have dealt with has slightly increased on 2009's figures.
"This possibly reflects the continuing trend for people opting to relax on the coast each summer in the UK.
"However there has also been a significant decrease in the number of incidents in some areas.
"This is particularly apparent in north Devon and west Dorset - two of the busiest areas in 2009 - showing a decrease in incidents by 42% and 51% respectively this year.
"Hopefully this indicates that the safety messages are getting through."
Adrian Carey, RNLI divisional inspector for the South West, added that the end of the high season was the perfect moment to thank all the volunteer crews who have had their summers disrupted by the constant call of the pager alerting them to another incident.
"I'd like to thank them all for their commitment and selflessness," he said.
"I'd also like to pass on the RNLI's heartfelt thanks to their families and their employers for their patience and dedication to our charity."