Legal fights to keep home care for Alzheimer's woman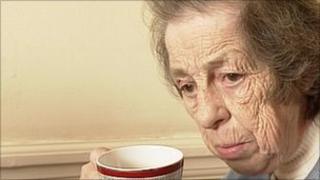 A Cornwall woman's family is challenging a ruling by the NHS to send her to a nursing home or get agency carers because she has Alzheimer's.
Social services currently pay Hilary Cooper's daughter and grand-daughter to care for her.
But her condition has deteriorated and the cost must now be transferred to the NHS, which cannot make direct payments.
The NHS says that after October Mrs Cooper must move into a home, or get agency carers.
Hilary Cooper, 75, of Whitstone, near Holsworthy, is in the advanced stages of Alzheimer's disease and needs help with all personal care.
Daughter Lynn Keen said: "She's happy where she is, she's doing OK, so why rock the boat?
"My dad doesn't want her to go into care.
"The reason he gets up in the morning is because he's got her."
Mrs Keen said she had explored the possibility of being taken on by a care agency, but said no agency would allow her to care only for her mother.
Devon Primary Care Trust said the trust sympathised with the family but the law prevented making direct payments to them.
Now the family has been granted legal aid for a judicial review in the High Court.
Their lawyer, Sharon Lamerton, said: "It's ludicrous. This lady is doing well at home. To move her into a home would more than likely shorten her life span.
"Alternatively, to have agencies coming in, you have not got the continuity of care.
"You have a vast change around of staff and that's going to affect her quality of life."