Bude firefighters get tickets for parking at station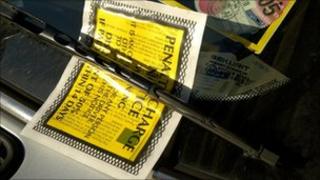 Firefighters handling 999 calls in north Cornwall say they are tired of being issued with parking tickets.
There are no designated spaces by the station in Bude, so retained firefighters say they have to park their vehicles on double yellow lines.
A nearby pay-and-display car park is said to be "impractical" for crews attending emergencies.
Fines are rescinded by Cornwall Council, which says it is working to find a solution.
Station manager Daryl Wellington said the only other option for parking nearby, a pay-and-display car park, was not a realistic option.
A proposal for identification cards in the cars had been abandoned because of the risk of duplication by other drivers.
'Peace of mind'
Mr Wellington said: "This has been going on for years.
"There is an option to rescind them if we contact Cornwall Council, but it seems a lengthy process to go through.
"Personnel are just looking for peace to mind to park when on station when they are on a call out."
Lance Kennedy, Cornwall Council cabinet member responsible for the fire and rescue service, said the council was considering creating a parking area, which could also be used for training, around the station.
He said: "Unfortunately, traffic wardens do not know whose vehicle is parked outside the fire station.
"If personnel get a ticket it will be immediately rescinded. But if we can avoid the admin cost of rescinding the ticket that will benefit everyone."