Minister suggests Highways Agency help for A30 plans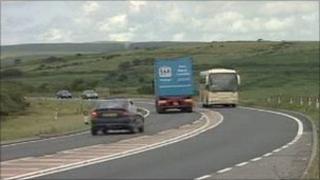 A minister has suggested the Highways Agency should work with Cornwall Council to get a new section of dual carriageway built in the county.
The 2.8m (4.5km) stretch of A30 at Temple on Bodmin Moor is the last of the single carriageway across the moor.
Roads Minister Mike Penning said the agency could help the council develop a scheme which would be cheaper than earlier plans.
Cornwall Council said that the government was being very positive.
The single carriageway section is a well-known bottleneck in the county. It had been previously estimated that it would cost up to £40m to dual it.
Nigel Blackler, head of transportation at the council, said of the minister's recommendation: "We're very pleased with the response that we've received from the minister.
"We really welcome the opportunity to look again at the design of the scheme and see what savings we can identify to bring the overall costs down and therefore improve the prospects for delivery."