Cornwall strandings hotline sees 75% increase in calls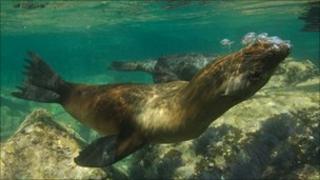 Calls to a marine strandings hotline in Cornwall increased 75% in a year, the trust which runs it has revealed.
In its 2009 report, the Cornwall Wildlife Trust's Marine Strandings Network said its strandings line had 1,782 calls. It had 1,000 in 2008.
The trust's Jan Loveridge said part of the increase was believed to be because more people were aware of the line.
She added that people were also encouraged to report any stranded animals, not just cetacean and seals.
She said: "For instance, last year we had 225 calls about Portuguese Men o' War being spotted. We even had calls from council staff to ask what to do if they were found.
Stranding decrease
"There was also a mass of dolphin strandings in 2008 and I think it's likely people remembered that and phoned in."
However, despite calls being up, the number of stranded animals found decreased, the network said.
Cetacean [whales, dolphins, and porpoises] finds were down from 110 in 2008 to 74, and from 72 grey seals in 2008 to 61 in 2009.
But basking shark strandings were up, from two in 2008 to five in 2009.
The trust said that the number of cetacean strandings in 2009 was more in line with previous figures. There were 80 cetaceans found in 2007.
It said it thought bad weather in 2008 probably led to the high number because south-westerly winds blew more animals onshore.
Ms Loveridge said: "It's good news that the numbers are down, but the calls are still probably just letting us know about a fraction of what's out there."