Seaquest team records Cornish basking shark sightings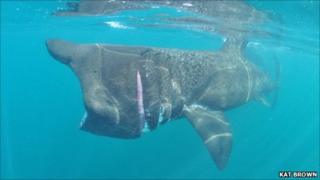 More than 500 basking shark sightings were recorded in Cornwall in the month of June, a wildlife charity has said.
The information was provided by Cornwall Wildlife Trust after its annual Seaquest Basking Shark project.
Data provided by volunteers added to the understanding of the huge "charismatic" creatures, the trust said.
Seaquest should provide more details about basking shark distribution and behaviour around Cornwall.
It is the third year volunteers have provided dawn to dusk coverage from the county's cliff tops during the three summer months.
Cornwall Wildlife Trust said it had been able to continue the project thanks to funding from British International Helicopters and the BBC Wildlife Fund.
Basking sharks appear in Cornish waters each summer to feed on plankton.
It is the second largest species of shark in the world, although very little is known about its biology and behaviour.
Seen up close
Dr Jane Manning, who coordinated the project, said: "You don't have to get on a boat to see a basking shark up close.
"Sometimes they swim in near to the shore and the volunteers have seen them less than 50m (164ft) away."
She recommended watching for the creatures from the cliffs in order not to disturb them.
"That means they are more likely to stick around for longer," Dr Manning said.
Volunteers stationed at Hella Point near Lands End saw peak numbers of basking sharks.
"The higher number of sightings in June may be linked to a late spring plankton bloom," Dr Manning said.
The trust said the full results of the survey were yet to be analysed and a full report would be produced later this year.
There has also been a number of sightings of basking sharks around the Isles of Scilly and the north coast of Cornwall.
As well as the sharks, volunteers also documented sightings of choughs, seals, dolphins, porpoises, minke whales and ocean sun fish.