Dog survives 150ft cliff plunge in Cornwall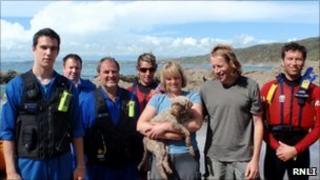 The RNLI has said a dog which fell 150ft (45.7m) down cliffs in Cornwall was "very lucky" to only break a leg.
Rolo the terrier fell down the cliffs at Rame Head on Tuesday while on a walk with his owners, who were on holiday.
The Tamar Coastguard asked Tregonhawke lifeguard unit to use its boat to rescue Rolo from an inaccessible cove.
The dog was taken to Polhawn beach for treatment. RNLI lifeguard James Millidge said it was "amazing" he did not have more serious injuries.
Fawn spotted
Mr Millidge added: "He was a cute little thing and looked pretty shaken up.
"I suppose I would be too if I had just fallen 150ft down a cliff."
Rolo's owners, Paula Tennyson and Drew Read from Somerset were on the first day of their holiday when Rolo disappeared on a walk.
Following a four-hour search Rolo was located and a cliff rescue team attempted to climb down the cliff-face to reach him, before deciding it was unsafe and launched the inshore lifeboat.
Ms Tennyson said: "I was trying to thank the lifeguards, but I was just crying so much, the coastguard team did such an amazing job.
"He's at the vet and they will X-ray him later to find out what damage he's done."
Ms Tennyson said that during the rescue a fawn was spotted along the cliffs, which they believe Rolo was chasing when he fell.
During last year's holiday to Whitsand Bay, Rolo was taken to the vets after being poisoned by something he had eaten.