Node testing technique 'cuts cancer surgery wait'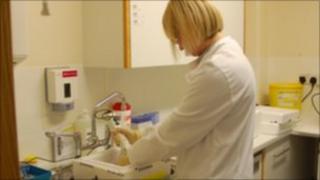 Breast cancer patients in Cornwall are to benefit from a high-tech procedure which will mean waiting time reductions to remove affected lymph nodes.
The OSNA technique - On-table Sentinel Node Analysis - is being used at St Michael's Hospital in Hayle.
When patients go in to have a lump removed, a sample is taken from their nodes and analysed immediately.
If tests find other nodes have to be removed, it can be done straight away rather than in another operation later.
The technique is only used at five hospitals in the UK, now including St Michael's, the Royal Cornwall Hospitals Trust said.
Prior to OSNA, a patient would have had to come in, have a procedure to remove a lymph node, go home and then wait two weeks for results.
They would then face another wait for another procedure to be scheduled if more needed to be removed.
The trust said the introduction of the new technique meant that patients only needed one procedure as a new machine tested the first removed node.
The others could be removed during the same operation session if the results said they should be, it said.