MPs 'will stop Cornwall-Devon constituency changes'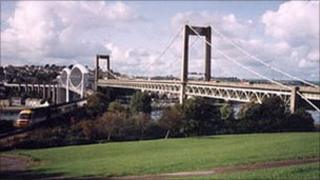 Cornwall's six MPs will try to stop any new constituencies combining with Devon even though they voted for a bill that may pave the way for them, an MP says.
The group supported the bill introducing a referendum on changing the voting system, changes to constituency boundaries and fewer MPs.
Changing the boundaries could mean Cornish voters finding themselves in combined seats with parts of Devon.
St Ives MP Andrew George said every Cornwall MP would fight such a move.
The bill was passed in the House of Commons by 328 votes to 269 on Monday night.
The referendum would ask voters if they want to switch from the first-past-the-post system for parliamentary elections to the alternative voting (AV) system - where voters rank constituency candidates in order of preference.
The bill also contains separate plans to "equalise" constituency sizes to about 76,000 people and reduce the number of MPs from 650 to 600.
It has been predicted that if Devon and Cornwall boundaries were changed, South East Cornwall or North Cornwall would merge with Devon West & Torridge or Plymouth Moor View, incorporating two sides of the River Tamar.
Liberal Democrat Mr George said the six Cornish MPs - three Conservatives and three Lib Dems - realised that there were definite economic and cultural differences between Cornwall and Devon, and that mixed consistencies might not recognise this.
He said the MPs planned to prevent such changes happening as the bill passed through its Parliamentary committee stages.
He said: "We're all standing together on this one, shoulder to shoulder. there's no one in Cornwall that wants to see a parliamentary constituency that straddles the border between us and Devon."
Meanwhile, the subject was one of the topics at a full meeting of Cornwall Council meeting at County Hall on Tuesday.
Councillors of the 120-strong chamber voted almost unanimously to lobby against the measure.