Cornish users claim ketamine use increased in county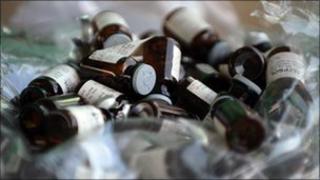 Drug users in Cornwall say the use of ketamine is becoming more prevalent in the county.
The class C drug is normally used to tranquilise large animals, including horses, but is also being used as an hallucinogenic drug.
A ketamine user from West Cornwall said "more and more people are using it" but said she had needed to go to hospital.
Drug awareness groups say that more information is needed on the consequences of the drug.
The ketamine user, who has used the drug for four years, said: "Each generation has its drug and ketamine is coming into this one.
"I like being a little bit wonky, a little bit wobbly, but every time you do it, you have to do more because your tolerance just rises.
"My friend had stomach cramps and I went to hospital.
"The first thing they asked is 'have you been doing ketamine?', which makes me think hospitals are now looking out for it."
Kidney damage
Bob Crossland, manager of Cornwall's Drug and Alcohol Action Team said it was difficult to know the exact number of ketamine users, because they did not often seek help, unless they needed support with another drug as well.
But he believes "the number of people using it are growing".
"The risks and effects vary according to dose, so it's about tolerance, dose, and people's physical and mental health.
"It's very dangerous if you mix it with ecstasy or amphetamine and long-term use can cause permanent bladder damage and kidney problems."
But Dr Ken Checkinski, medical advisor for the government's anti-drug helpline Frank, said national statistics did not support an increase in ketamine use.
He said: "The statistics show that it hasn't increased in popularity."