Rocks laid over cable in Cornwall wave energy scheme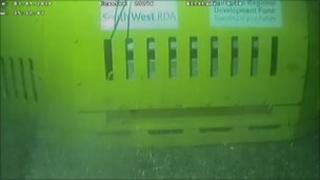 About 80,000 tonnes of rock are being laid over cable on the sea bed off Cornwall in the latest stage of a £42m wave energy scheme.
The rocks will cover a 25km cable linking a sea bed electrical socket called the Wave Hub to an electricity substation at Hayle Towans beach.
The Wave Hub will be able to connect four wave energy machines on the sea surface to the National Grid.
The hub is due to undergo a series of tests in the autumn.
Ocean Power Technologies is the first firm to take a berth on Wave Hub to test its wave energy machines.
Discussions are ongoing with other developers for the three remaining berths after two other companies dropped out.
Maria McCaffery, chief executive of renewable energy association Renewable UK, said: "Wave Hub is a tremendously exciting development, and a truly world-leading project.
"It will focus global industry attention on the UK and put the South West firmly on the map in terms of marine energy research and development."