Sixteen new bards are initiated into Cornish Gorsedd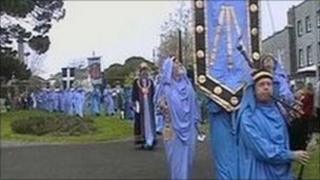 More than a dozen men and women have been initiated into the bardic circle in Cornwall.
Crowds of people lined the streets of St Ives to watch the Cornish Gorsedd procession.
The group, called Gorseth Kernow in Cornish, was formed to uphold the county's Celtic traditions.
A total of 16 people were honoured in the ceremony for their outstanding contributions to Cornwall and its ancient culture, history and language.
There are believed to be about 500 Cornish bards across the world.