Cornwall's Trevalga Estate sale suspended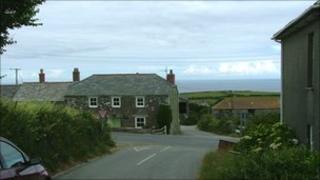 The sale of a historic estate in Cornwall has been suspended because of a dispute over who owns it.
Marlborough College believed it was the owner and put the 3,000-acre Trevalga estate between Tintagel and Boscastle up for sale for £10m.
But an independent lawyer consulted by the estate's residents has conducted investigations and claims the school - based in Wiltshire - does not own it.
The estate has been taken off the market while the dispute is considered.
About 40 people in 16 properties could be evicted if the 3,000-acre estate is sold.
Trevalga was left by Gerald Curgenven, the last lord of the manor, to a trust in 1959 with the profits to go to his school, Marlborough College.
The college, which believed it was now the owner, put it up for sale in August.
Mark Syrett, from the agents Savills, which is in charge of the sale, said: "There are differences of expert legal opinion over who is the absolute owner of the estate.
"The college's decision to sell Trevalga was based on a formal opinion obtained from an eminent trust lawyer who had advised them that they were the absolute owners.
"Recently an alternative argument has been put forward by another eminent trust lawyer that questions that original advice."
He added: "The college felt it was important to get clarity and to establish without any doubt whether absolute title to the Trevalga estate lies with the college or the former trustees."
Tenants have said selling the estate would be against the dying wishes of Mr Curgenven.