Cornwall Wave Hub lowered to sea bed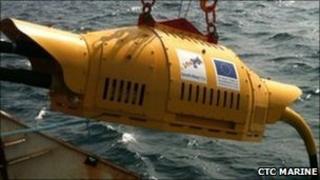 Engineers working on a £42m wave energy scheme in Cornwall have lowered an electrical socket on to the sea bed.
The 12-tonne Wave Hub was laid 180 feet (55m) down about 10 miles (16km) offshore from a ship, the Nordica.
The operation to lower it from the ship began overnight.
The hub will act as a socket connecting a number of experimental wave energy machines on the sea surface to an electricity substation ashore.
It was positioned on the sea bed after a 90-tonne cable was connected to the substation at Hayle Towans beach and sailed out to sea.
The hub is due to undergo a series of tests in the autumn.