Cornwall yachts gutted in Penryn boatyard blaze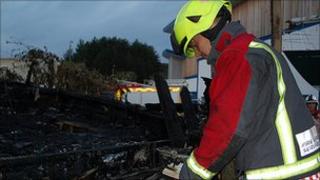 A fire has badly damaged two yachts in a Cornwall boatyard.
Flames spread from a catamaran to a yacht before firefighters prevented the blaze from spreading further at the Ponsharden boatyard in Penryn.
No-one was injured in the fire early on Thursday morning at the yard where the owner of the catamaran lives aboard.
It had been feared a woman was trapped on board the catamaran, but she was found safe and well. The cause of the fire is being investigated.