Music ban for Truro half marathon runners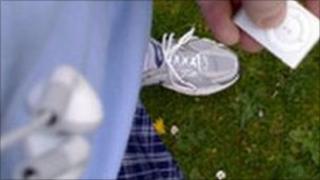 A ban on music devices such as iPods at the Truro Half Marathon has led to some runners withdrawing from the annual event in protest.
The Cornish Grand Prix Road Running Group said it had banned MP3s and similar devices "on safety grounds" due to busy roads along the route.
The organisers said runners found using MP3s would be disqualified.
Runner Mark Bracey, from Feock, said: "I probably wont be competing if I can't use it".
The race entry form states that "all MP3 players and personal audio devices are banned".
'Sharing road'
It adds: "Marshals will be placed around the route who will be noting any individuals wearing personal audio devices."
Doug Alsop, chair of the road running group, said: "I can't think of any other competition where people would be listening to music.
"The very nature of it being a road race means you're sharing that road with all other traffic users."
But Mr Bracey said: "After hundreds of hours of road running I've never been in the remotest bit of danger when listening to my MP3 player."
Truro runner Sophie Anderson said: "Not very many of us are happy about this to the point that we're not going to race anymore.
"There are marshals around who sign language you if there's anything coming, and you don't have the MP3 too loud so you can still hear what's going on."
Currently individual organisations can make their own decisions about whether to ban MP3s during an event or not.
In a statement UK Athletics (UKA) said: "We have considered imposing legislation on a number of occasions but reached the conclusion that the only time that we could enforce a ban on headsets is in championship races.
"However we strongly recommend that within their risk assessment race promoters determine whether it is safe to wear headsets and if not then a ban should be imposed.
'Hard to pass'
"The most common circumstances in which use should be banned are when the road is open to traffic or if the race is over a multi-lap course."
In 2009, 437 competitors ran the event around Truro. This year's event is due to take place on 17 September.
Jo Bullock from the Royal Society for the Prevention of Accidents said: "We've seen no evidence of accidents to suggest that using a personal music player or taking part in an organised event is a particular threat to people's safety.
"But it is very hard to pass a runner in a race if they are listening to an MP3 player.
"There's also the purists who think people should be fully engaged with the event, other runners and the crowd."
Organisers of the Bath Half Marathon have implemented a similar ban in the past.