Broken bodyboards left on Polzeath Beach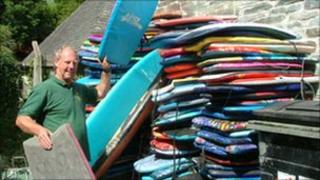 More than 200 bodyboards have been found on a Cornish beach in the past two months.
The polystyrene boards, many of which were broken, were abandoned on Polzeath.
Beach ranger Brian Bartlett said because the boards are not particularly expensive, users simply discard them rather than take them home.
They will go on show later as part of a BeachCare project highlighting litter along the Cornish shoreline.
BeachCare has been set up as a pilot in Cornwall by Keep Britain Tidy in partnership with Cornwall Council, South West Water, the Environment Agency, community groups and volunteers.
It also operates on Porthtowan, Widemouth and Bude and will expand in the autumn and winter to include more locations.
BeachCare staff at Polzeath will also be handing out special cone-shaped ashtrays in a bid to get smokers to stop stubbing out cigarette butts on the sand.
Neil Hembrow, the council's project co-ordinator, said: "The council, other beach managers and groups of volunteers do a very thorough job clearing up, but litter and debris is an increasing and costly problem on beaches."
Keep Britain Tidy said it has been in discussions with other partner agencies and if the Cornish pilot proves to be successful, it hopes to roll out the BeachCare project elsewhere in the UK.