Roof repairs begin on 13th Century Rame Church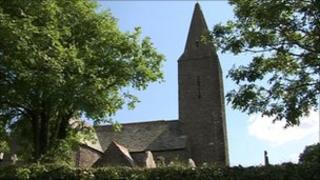 Work has begun to repair a Cornish church used by seafarers Nelson and Drake as a navigational aid.
The appeal to raise funds for the Church of St Germanus at Rame has reached £100,000 in less than a year.
Workmen are replacing the Cornish Delabole slates on the Grade I listed building's roof which have been affected by nail rot.
The 13th Century church, which was consecrated 751 years ago, has no running water, gas or electricity.
Services at the church are lit by candlelight.
It is thought to be the very simplicity of the church which has inspired so many people to raise money for the repairs.
Ken Ryle, a member of the Friends of Rame Church, told BBC News: "We had one gentleman who was getting married in the church, so he ran three marathons and raised £2,5000 for the appeal."
The church sits on the Rame Peninsula overlooking Whitsand Bay and it is the continual exposure to salt air which has caused the damage to the slate nails.
The rector says completing the work now will ensure its survival.
"It was 750 years old last year and we intend to keep it for another thousand," the Reverend Robin Doyle said.