Cornwall hospital boss Watkinson £1.2m compensation win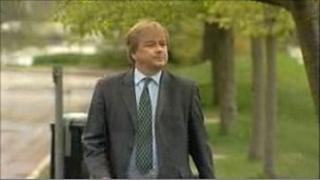 A former Cornwall hospital boss who was unfairly dismissed "as a whistle blower" has been awarded £1.2m in compensation.
John Watkinson was sacked in 2009 as chief executive of the Royal Cornwall Hospitals Trust (RCHT).
In May an Employment Tribunal found he was removed because he stood in the way of plans to transfer some cancer services out of Cornwall to Devon.
The award is subject to the outcome of an appeal by the RCHT.
It is appealing against the ruling that Mr Watkinson was sacked for being a whistle blower.
Mr Watkinson has described the judgement as "bittersweet".
'Humble' porter
"Although the award is substantial, it cannot replace the 35 year long NHS career, which I expected to last a further 12 years to my retirement," he said.
In a statement, Mr Watkinson said his dismissal was still blighting his chance of finding work.
"It seems I can hold out little or no hope of a senior role in the service to which I have dedicated my professional life," he said.
"For me, the most important thing remains the judgement of the Employment Tribunal last March that restored my good name and reputation.
"Receipt of the award determined in today's judgment is dependent on me achieving a successful outcome at the appeal."
The tribunal judgement said Mr Watkinson had started his NHS career in "a very humble capacity" as a hospital porter in 1974 and had achieved his CEO status through his "ability and hard work".
Transfer approved
The tribunal in May ruled his sacking was "substantively unfair" because he was about to blow the whistle regarding legal advice that suggested the NHS should have held a public consultation before moving some cancer services to Plymouth.
The RCHT, which admitted it unfairly dismissed Mr Watkinson, told BBC News it would not comment on the judgement as it was appealing against the ruling that Mr Watkinson was a whistle blower.
Last month the Independent Reconfiguration Panel approved the transfer of services, saying it was in patients' best interests as it would ensure the highest quality of care.
The move was also backed by Secretary of State Andrew Lansley.