Cornwall charity Shelterbox suffers split in Australia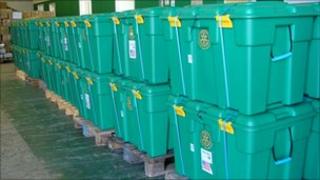 Shelterbox, the Cornwall-based charity that sends aid to disaster-hit regions, has been hit by a split in Australia.
The charity provides boxes of aid containing a 10-person tent, blankets, water purification tablets, cooking equipment, tools and a stove.
The organisation, based at Helston where it was founded 10 years ago, has affiliates in 10 countries.
Now members of the Australian branch have created their own organisation, Disaster Aid Australia.
Members of Shelterbox's affiliate organisation in Canada created their own organisation, Disaster Aid Canada, earlier this year.
Shelterbox, which has been operating in Australia for seven years, said it was "disappointed" by the move.
The Cornwall charity's founder Tom Henderson told BBC News: "We are disappointed because they were part of our organisation.
"You could say it dilutes the effort, but we are not going to fall out with them."