Cornwall's Wave Hub gets £1.5m government funding boost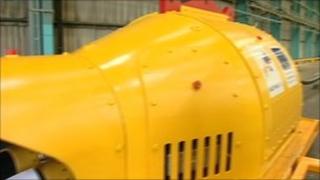 Cornwall's innovative alternative energy project has been given an extra £1.5m by the government.
The announcement was made by Business and Enterprise Minister Mark Prisk who was visiting the Wave Hub site in St Ives Bay at Hayle.
The money will be used to develop the Powerbuoy wave energy device which will be the first to plug into the hub "socket" next year.
The installation of the 12-tonne hub is due to begin next week.
Power from wave energy machines will be fed directly from the hub on the sea bed to an electricity sub-station in Hayle.
'Tough conditions'
Wave Hub should start delivering power to the national grid as early as next year.
An independent economic impact assessment has estimated the £42m project could create about 1,800 jobs and inject £560m into the UK economy over the next 25 years.
The yellow socket is currently on board the Nordica, along with miles of cabling.
The ship will take four to five days to lay the cable to the Wave Hub site, after which a crane will be used to lower the hub on to the seabed in about 50m of water.
Wave Hub will undergo a series of tests in the autumn.
Mr Prisk said he was very impressed by what he described as a "world leading project".
"I think this is a very exciting project," he told BBC News.
"It's got to be a team effort because, of course, you need the private organisations who are looking to develop the technologies, you need the infrastructure, but you also need local government and national government involved."
Miles Hearn, from Ocean Power Technologies which is developing Powerbuoy, said it will need to be able to endure "really tough conditions" out at sea.
"The important thing about the design is having something that's economical to produce, that can survive at sea and that performs well," he said.