Wave energy hub and cable en route to Cornwall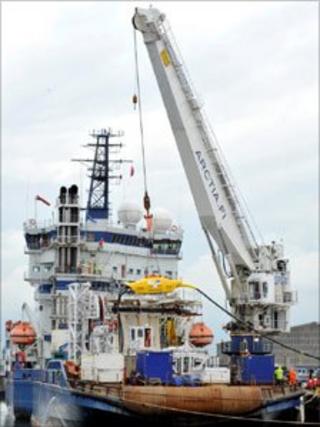 The vital components for a £42m wave energy project have been dispatched by ship to Cornwall.
The Wave Hub is a "socket" on the sea bed which will link wave-power devices directly to the national grid.
The 12-tonne hub and its 25 km (15.5 mile) cable, which were manufactured in north east England, left Hartlepool docks on Monday evening.
The Nordica is due to arrive in St Ives Bay on Friday for the installation 10 miles (16km) off Hayle.
An independent economic impact assessment has estimated Wave Hub could create about 1,800 jobs and inject £560m into the UK economy over the next 25 years.
The South West Regional Development Agency (RDA) said it is expected to be the world's largest wave energy test site where different power devices can be connected and their performance evaluated.
Power from wave energy machines will be fed directly from the hub on the sea bed to an electricity sub-station in Hayle and should start delivering power to the grid next year.
Wave Hub general manager Guy Lavender said work will begin as soon as Nordica arrives.
The entire cable route will be surveyed before the cable is pulled ashore at Hayle early next week. It will then be buried in the sand.
Nordica will take four to five days laying the cable to the Wave Hub site.
"It should reach the Wave Hub site after about four or five days and will lower the hub on to the seabed in about 50m of water using its on-board crane," Mr Lavender said.
Wave Hub will undergo a series of tests in the autumn.