Soham murders: Ian Huntley's press interviews alerted police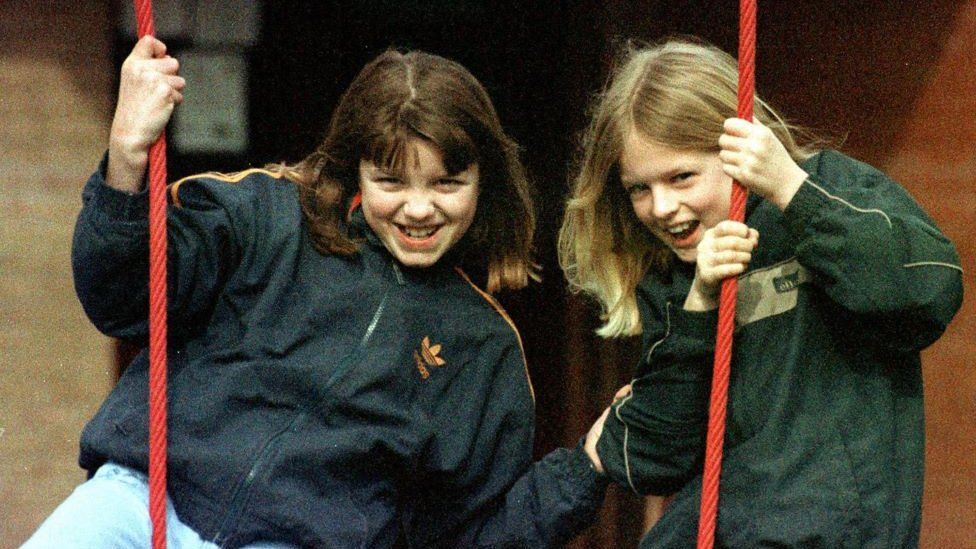 Twenty years ago a community was ripped apart when Soham murderer Ian Huntley brutally killed schoolgirls Holly Wells and Jessica Chapman.
The hunt for their killer and clues that helped identify Huntley as the killer revolutionised policing with the introduction of a national police database. How did it happen?
What happened to Holly and Jessica?
Holly Wells and Jessica Chapman, both 10, were killed by Huntley after they went missing following a BBQ in Soham, Cambridgeshire, on 4 August 2002.
Police officers and members of the local community searched tirelessly to find the girls.
Their bodies were found in a ditch near an airbase in Lakenheath, Suffolk, two weeks later.
Huntley is serving a life sentence for their murder with a minimum term of 40 years.
His girlfriend Maxine Carr was also jailed in 2003 after being found guilty of conspiring to pervert the course of justice for giving him a false alibi.
How was Ian Huntley caught?
Attention was drawn to Huntley after several strange interactions.
The former school caretaker gave several interviews to the press and some journalists raised suspicions about him due to his answers and interest in the case.
In one interview Huntley, 48, gave a detailed account when asked how the girls might react to a stranger.
PA news agency reporter Brian Farmer, who interviewed Huntley and Carr at their home while the girls were missing, said Huntley's answers were so suspicious that he raised his concerns with police.
Huntley, who barely knew the girls, "jumped in" to answer a question that Mr Farmer posed to Carr, who had been the girls' teaching assistant, about stranger danger.
"He said that he thought Holly would probably get in the car and quietly go, but Jessica wouldn't.
"She'd put up a real fight and a real struggle."
The reporter recalled Huntley was quite agitated and emotional during the interview.
"I think the way he described how Holly and Jessica would react is exactly how they did react," Mr Farmer said.
"He knew how they'd react because that's how they reacted when he killed them."
Huntley's alibi was also discredited. Carr had originally claimed in press interviews the couple had been home together in Soham but she later told police she was actually at her home in North Lincolnshire the day the girls went missing.
After arresting Huntley and Carr, Mr Farmer was asked to give an account to police of his interview with the pair.
Mr Farmer said a number of Huntley's press interviews drew attention to him, and led to people from Grimsby who knew him coming forward with information.
"They called the police and said: 'That man you've interviewed - he's got a lengthy record of misbehaviour with children'," he said.
In press photographs the police also noticed new tyres on Huntley's car and when they tracked down the old ones, found forensic evidence linking the car to the area the girls bodies were disposed of.
Forensic ecologist Prof Patricia Wiltshire was one of those who played a key role in proving Huntley had been at the site where Holly and Jessica's bodies were found.
She established that pollen found on Huntley's shoes and his car exactly matched the type at the scene.
Prof Wiltshire found "the approach path" where Huntley had gone to and from the ditch, by looking at trampled nettles.
"The plants helped because Huntley had put the girls' clothing into a bin and tried to burn them back at the school, and lo and behold it was covered in little bits of vegetation from where the girls had been laid," she said.
"I found pollen grains and spores that were characteristic of that site and I checked other sites, and they were not characteristic of those sites - one always has to eliminate.
"There were many, many markers in terms of pollen grains and spores on Huntley's shoes and his vehicle that firmly put him in that place - not just once, but twice - because he'd been back to check on things," she explained.
Another reporter Debbie Davies, then the deputy editor of the Ely Standard, said she now feels "sick" when she remembers watching Carr display a poster of the missing girls in her front window.
Miss Davies, 62, said she feels ill thinking that they displayed the poster when Huntley had already killed the girls.
"It's only obviously since then that I've thought about the horrors of what went on in that house.
"The fact the girls were laying in a shallow grave, and he knew that, and every time he saw that poster he knew what had happened.
"That, still now, is difficult for me to wrestle with, and I can never understand what was going on in his head."
She said she now wonders if it was part of their attempt to cover-up the murders and present themselves as helpful members of the community.
"It's one of those moments in my life that's like an indelible image, if you like, of her standing there with that poster and the poster staring out at me.
"Obviously they knew there was no hope and that's horrific to think about that."
How did it change policing?
The case sparked a major investigation after it emerged Huntley had previously faced allegations of rape and under-age sex.
One of the key recommendations of the Bichard Inquiry that followed the double murder was a Police National Database to ensure convicts and suspects could not hide across county borders.
It was launched in 2011 to combine intelligences from 43 forces in England and Wales, and data from 150 computer systems.
The information held includes convicted criminals, suspects and victims of crime, as well as the details of people who have been questioned by police but not charged.
The creation of the database was described by the parents of Holly and Jessica as a "defining moment" to mark the passing of their daughters.
Sharon and Les Chapman, Jessica's parents, said: "We hope [the database's] use will mean other families don't suffer the same loss and heartbreak as we did."
The case also led to the strengthening of legislation to protect children, including compulsory criminal background checks on people who apply to work with them.