Peterborough: Work starts to cut down 600-year-old Bretton oak tree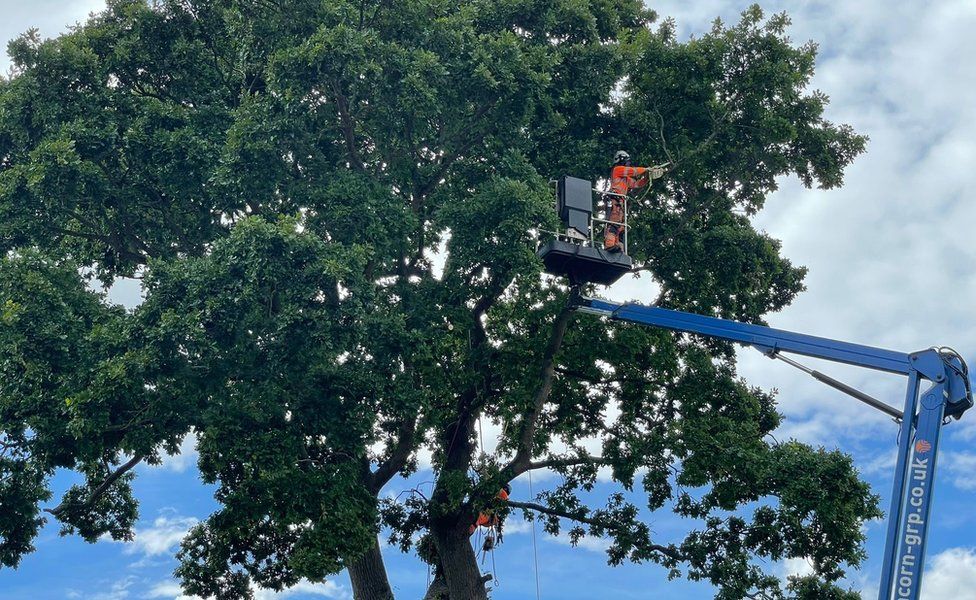 Work has started to cut down a 600-year-old oak tree after campaigners lost their battle to save it.
Campaigners had tried to save the tree and two men climbed into it to try to stop it from being felled.
Bretton resident Dennis Ledbury said the decision to fell the ancient oak was "appalling".
"It's a great shame because I'm not 100% sure, knowing the sub-soil we have around here, that this tree has actually caused the damage they [the council] are claiming," he said.
Campaigners said the tree - which appears on the Woodland Trust Ancient Tree Register - is one of the last standing oaks from the original Grimeshaw Woods and dates from the 14th Century.
There was a police presence and gates were set up around it to prevent people from stopping the felling work, but two men had scaled the tree.
They came down on the advice of police officers and as soon as they did, work started on cutting down the tree, Mr Ledbury said.
"Most of the protesters have gone; some of them were in tears because they're watching this tree fall apart," he said.
"Six hundred years it's taken to grow and I've been here for an hour and they've destroyed half of it already.
"It's sad to see... I really don't think the decision to take it down was correct."
Campaigners had tried to save the tree by serving the council with an injunction and the case was heard at Peterborough County Court on Tuesday.
But it was dismissed by Deputy District Judge Slaney who said it was outside his jurisdiction.
Nigel Simons, the council's Conservative cabinet member for the environment, said felling the tree was a "difficult decision".
He said although the council understood the residents' point of view, "all options to save the tree could have cost the council hundreds of thousands of pounds in repairs and legal fees" if homes were affected by it.
The council said 100 young oak trees would be planted across the city this autumn and winter to mitigate the environmental impact of this decision.
Related Internet Links
The BBC is not responsible for the content of external sites.