The Chatteris woman who watches the Fenland sky after accident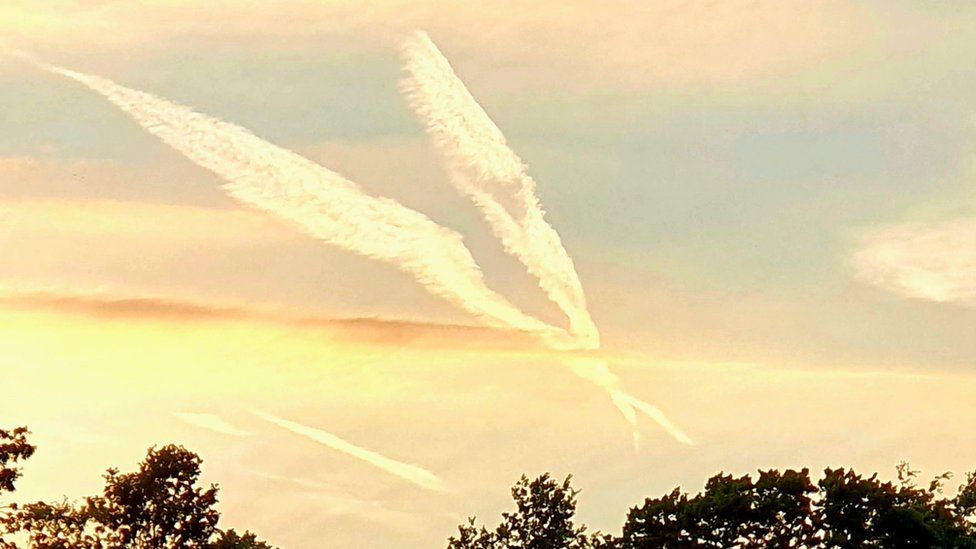 A woman with a life-long love of the sky, weather and photography, said her passions have been a lifeline after an accident left her barely able to walk.
Caroline Turner, 71, broke her neck four years ago falling down her stairs during a power cut in Cambridgeshire.
"I'm disabled and spend my evenings in bed, looking out at the sky, it's incredibly beautiful sometimes," she says.
She photographs the Fenland skies which brings her "endless joy".
Ms Turner's pictures range from stunning sunsets, to billowing clouds - and even aircraft contrails, a photo of which looks like the wings of an angel, she says.
Winds high up in the atmosphere fanned out the contrails, which she captured on a camera phone from her bedroom in Chatteris.
"That's the beauty of nature - it took what man had left behind and turned it into something wonderful," she says.
"At first it looked like a pair of arrows - and then it turned into a proper angel."
Her passion for the skies, cloud formations and the weather stem from childhood, when she lived on the Dorset coast.
She says: "I was about 10 and I made friends with Fred, the fisherman, and he taught me to read the weather by looking at the sky.
"He'd always know when a storm was coming."
Ms Turner goes up to bed early and watches the sun setting over the rooftops.
"There are lots of nicer places to take beautiful photographs, but I'm stuck with what I've got."
She can get around on her mobility scooter, but when she goes on trips with her family, she always takes photographs of the clouds in the sky, or reflections of them in water.
"I've always looked up - you miss a lot if you don't," she says.
"Isn't nature a wonderful thing? It brings me endless joy."