Artist David Hockney visits own Cambridge exhibition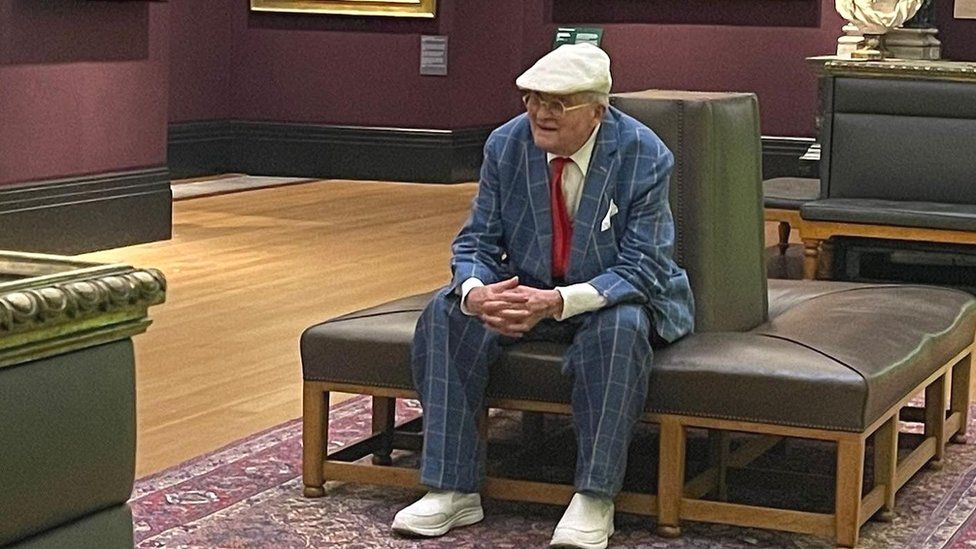 Artist David Hockney has been spotted visiting his own exhibition being held in two venues in Cambridge.
Hockney, 84, was seen at both the Fitzwilliam Museum and the city's Heong Gallery.
Both venues are hosting Hockney's Eye: The Art and Technology of Depiction, with the Fitzwilliam showing a new self-portrait of the artist.
Hockney also met with Chinese dissident and artist Ai Weiwei, who has a base in Cambridge.
The artist's self-portrait, an acrylic painting showing Hockney in a tweed suit with a paintbrush in one hand and cigarette in the other, is being shown for the first time in the UK, among other works.
In the Fitzwilliam Museum's picture galleries, Hockney's drawings, paintings and digital artworks are shown alongside works by artists including William Hogarth, Vincent Van Gogh and Claude Monet.
The museum said this would "enable Hockney and artists of the past to speak directly to each other for the first time."
Hockney was pictured sitting in a gallery in the museum looking at his exhibition and was also seen deep in conversation with Ai Weiwei when he visited the Heong Gallery at Downing College.
The Hockney exhibition at both Cambridge venues run until 29 August.
Related Internet Links
The BBC is not responsible for the content of external sites.