Twelve konik pony foals born at Wicken Fen nature reserve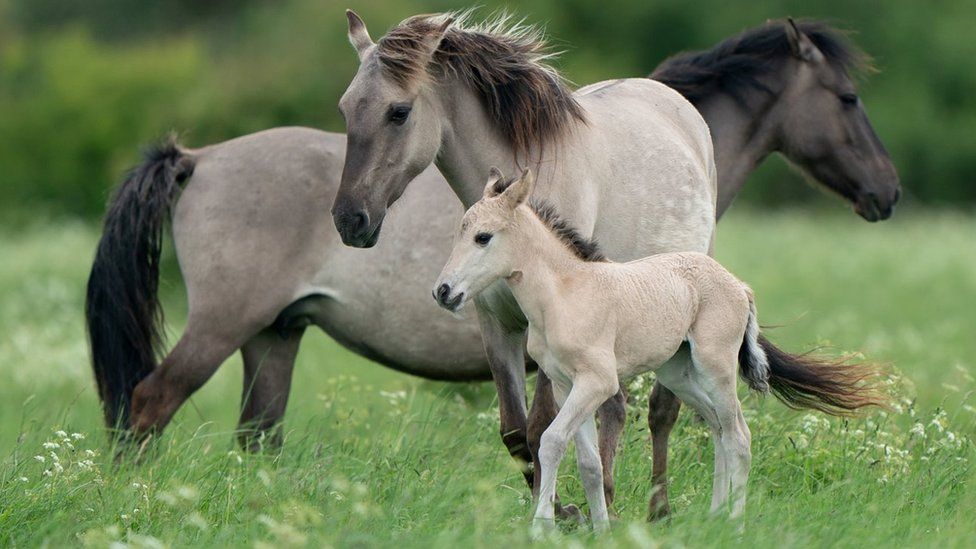 Twelve newborn konik pony foals have joined the herd at a nature reserve, where their grazing is helping to create habitats for other species.
The hardy breed originating from Poland have been bred since 2003 at the National Trust's Wicken Fen nature reserve in Cambridgeshire.
They leave water-filled hoof prints and piles of dung as they go, which can help attract new species of flora and fauna to the lowland landscape.
Cattle also help to manage the land.
Rangers have named 10 of the newborn ponies - Victor, Ginger, Rigel, Oliver, Argo, Pilgrim, Sprout, Sylvester, Pie and Beric - after horses in film and TV.
The two most recently born have yet to be named.
More than 200 foals have been born on the reserve since breeding started almost 20 years ago.
The breed is distinctive, as stallions can sometimes be seen rearing up on their hind legs and sparring with each other in a display of dominance during the foaling season.
Four baby Highland cows, the latest of which was born on Tuesday - the 100th to be born at Wicken Fen since breeding started in 2005 - have also joined the herd, which is helping to manage vegetation at the reserve.
The first two female calves have been named Malin and Bailey, after areas on the shipping forecast.
A National Trust spokesman said it was not possible to manage the expanding reserve using traditional methods of man and machinery, and so the animals were brought in to help.
"The animals help keep the landscape open and help wetland and grassland plants to become established," he said.
Wicken Fen is the National Trust's oldest nature reserve and is one of Europe's most important wetlands, supporting an abundance of wildlife.
There are more than 9,000 species, including an array of plants, birds and dragonflies at the site.
Related Internet Links
The BBC is not responsible for the content of external sites.