A14: Surveys carried out after road scheme trees die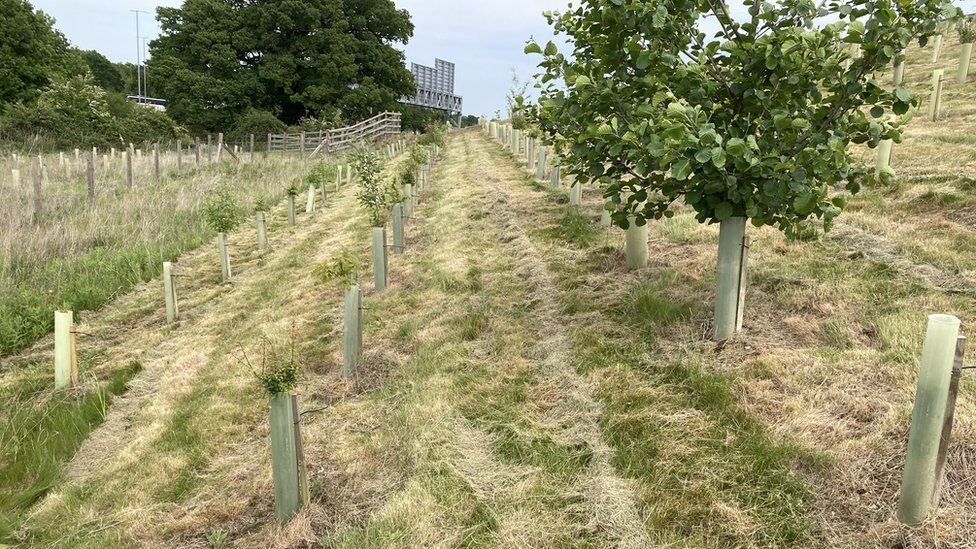 National Highways has said it will not "walk away" after a "large proportion" of trees planted as part of a £1.5bn roadwork scheme died.
About 800,000 were planted as part of the A14 upgrade between Cambridge and Huntingdon.
National Highways senior project manager Laura Hampshire said it would "stick" to its responsibility.
She said there had been "small pockets of failure", and said a survey had taken place which suggested about 20-30% of the trees had died but all were replanted.
A failure rate of about 20% was to be expected, she said, and a second survey was now being carried out.
Vhari Russell, from Brampton, described the trees as "characterless".
"We had a beautiful thicket of woods and hedgerows along here and that's all been taken away," she said.
"It's not just about nature, it's about noise prevention as well and making back what was there before."
She added National Highways needed to have "dialogue" with the community because "the community wants to be involved".
Ms Hampshire said National Highways was committed to seeing the five-year project through, and gaining a "true understanding" of what was happening.
"We will work with local communities. We are still here. We have not walked away from this," she said.
"We've got the five-year obligation and that's what we'll stick to."