Cambridgeshire badminton coach aged 85 'won't retire'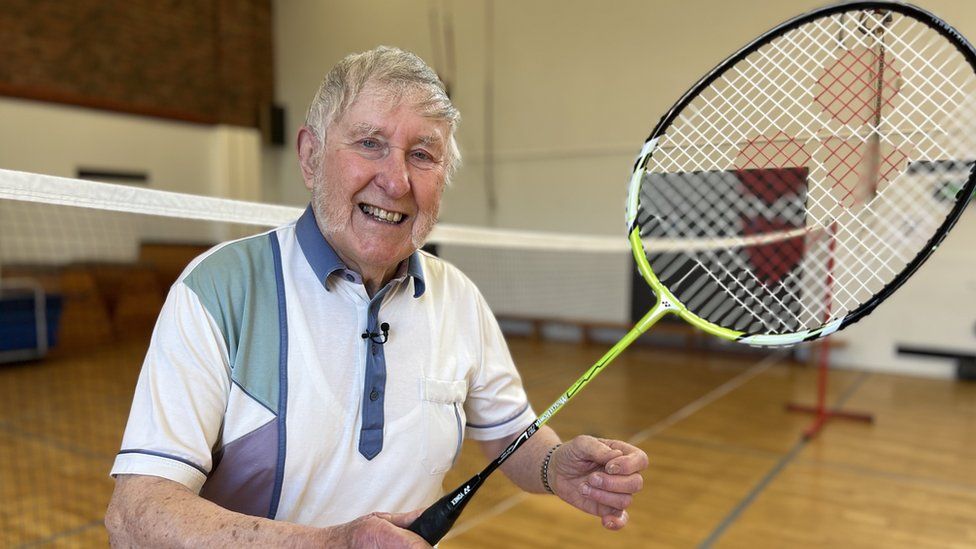 An 85-year-old badminton coach, one of the oldest in the country, says he has no plans to retire.
Colin Bedford from March in Cambridgeshire says the sport has been a huge part of his life since he started playing aged 11, even helping him meet his late wife.
Mr Bedford, who coaches at the town's high school, said he was "very lonely" without the sport during lockdowns.
"Badminton - it gives me a kick, gives me a purpose in life, " he said.
Mr Bedford, who coaches at Neale-Wade Academy and Badminton England, believed he was the oldest coach on record.
He said: "I get up in the morning and think 'Gosh I'm going to be playing badminton today'."
"I just love it - meeting other people, chatting to other people, coaching other people and helping them along the line," he added.
The sport has played a huge part in his life including introducing him to his wife Margaret when they played for the same club.
"We started playing badminton together when we were about 15. She came with me everywhere where we played badminton up till when she died four years ago.
"She was with me every day, we went everywhere together and badminton three and four times a week, we loved it," he said.
During the pandemic's social restrictions phases, Mr Bedford said he struggled with not being able to coach and meet people.
He said: "We've had Covid for two years, I felt very lonely and really missed it. It's like sugar in a tea if you like, it's sweet, badminton is sweet. I love it, I can't get enough of it."
He said he has no intention of retiring and wants to keep going until he is at least 100, just like Captain Sir Tom Moore whom he greatly admired.
He is running an eight-hour badminton marathon at his club in March to raise money for cancer research and local charity Living Sport.