Rikki Neave: How killer James Watson was finally caught
By Phil Shepka & Jo Black
BBC News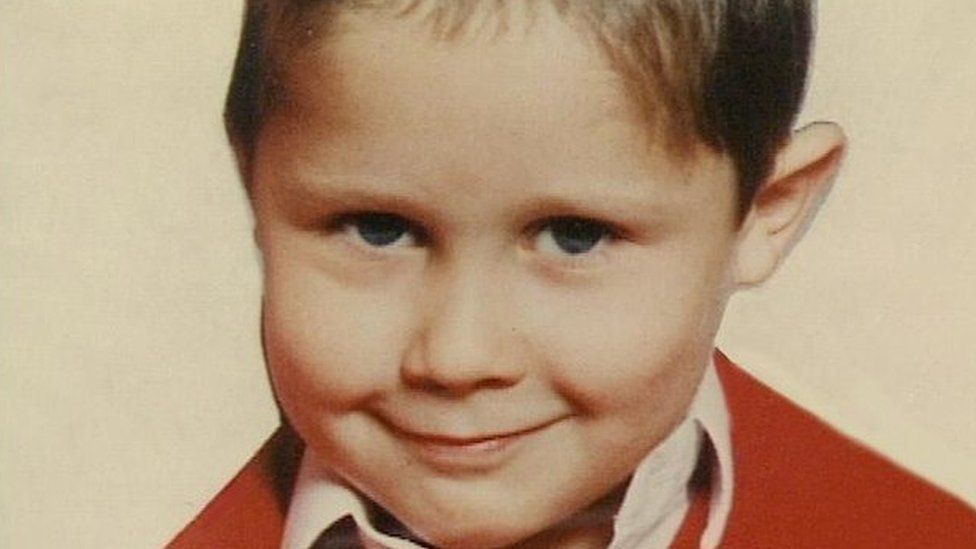 In 1994 six-year-old Rikki Neave disappeared after leaving home for school. A day later his body was discovered in undergrowth. Why did it take nearly three decades to bring the killer - who was 13 at the time - to justice?
The body of Rikki Neave was found naked and posed star-shaped with his arms outstretched and legs wide apart, in woodland near his home on the Welland estate in Peterborough in November 1994.
The murder happened the year after two-year-old James Bulger was kidnapped, tortured and murdered.
But while James Bulger's killers Jon Venables and Robert Thompson were brought to justice, Rikki's killer evaded justice for more than two decades.
The police first suspected Rikki's mother, Ruth.
Rikki was known to Cambridgeshire social services as a vulnerable child.
He was on the county's Child Protection Register having been deemed at risk and he often played truant from school.
Rikki's half-sister Rochelle Neave, who was aged three at the time of the killing, remembered him as a "loving and caring" boy.
Their early life together, she said, was hard.
She told how when there was no food in the house, he would sometimes "go to the shop, he would nick it and come back and feed us".
"[He'd] make sure we were clean so he'd run a bath because he was so clean, he loved being clean," Ms Neave said.
Initially charged with Rikki's murder, Ruth's trial in 1996 was told how she had threatened to kill her son, scrawled "idiot" across his forehead on one occasion and squirted washing-up liquid in his mouth.
But while she was jailed for seven years for child cruelty (a charge she subsequently claimed to have been "bullied" into admitting), Ruth was cleared of his murder.
Ever since, Ruth has relentlessly sought to keep attention on Rikki's case.
Rikki Neave left for school but never came home. Decades on his killer has been jailed.
One of those to hear Ruth's calls was the then head of the local major crime unit, Paul Fullwood.
In 2014, Mr Fullwood agreed to a meeting with Rikki's family at Parkside Police Station in Cambridge.
"When I listened to their [the family's] evidence and saw the reviews that the police had done beforehand, for me there were a number of lines of inquiry which were outstanding," said former Assistant Chief Constable Fullwood, who came out of retirement to see out the case.
"There were a number of opportunities that had been missed in my view.
"I thought the original hypothesis around her [Ruth] being responsible was fanciful at best and then the more I looked at it, the more I was convinced actually we needed to look into it further."
Mr Fullwood organised a cold case investigation with a new team made up of staff not involved in the original investigation.
Their inquiries hit a number of issues, some of which are typical in cold case reviews - such as witnesses having died or memories faded.
But there were issues with evidence too.
Some of Rikki's clothing was returned to Ruth Neave's solicitors after her 1996 trial, for example.
The wheelie bin in which Rikki's clothes were found had been stored in the underground car park at Thorpe Wood Police Station in Peterborough.
But Mr Fullwood's team discovered the wheelie bin had not only been lost but there appeared no record of it ever having been forensically examined.
"It was a proper whodunnit," Mr Fullwood said.
But they had what he termed a "stroke of luck" in the forensic archives.
Back in 1994 sticky tape was used to collect fibres from clothing.
The team came across an envelope that contained not only samples of Rikki's clothing, but of DNA linked to their new suspect - James Watson.
James Watson had been a name which cropped up during the original 1994 investigation.
Witnesses had spotted Watson playing with Rikki on the day of the killing.
But at the time he told police he had "never been anywhere near Rikki Neave", Mr Fullwood said.
Questioned by the new investigation team, Watson's story changed.
He might, he said, have lifted Rikki up in the air to help him see over a fence.
The police tested his claim and found footage from 1994 showing the estate being redeveloped.
"That fence was not built when Rikki Neave was there," says Mr Fullwood. "It was never built when he was murdered.
"So we were able to prove that James Watson was an absolute liar and a fantasist."
The cold case team knew that the DNA discovery alone was not enough to secure a conviction and started to pull other pieces of evidence together.
They found evidence that Watson, now 41, had inappropriately sexually touched a five-year-old when he was about 11 or 12 and a previous partner had complained about him strangling her during sex.
There were also two teachers who revealed how, on the day after Rikki's murder, Watson had photocopied the front page of the Peterborough Evening Telegraph which was centred on the case.
"This is somebody who showed an unnatural interest in the events - not something that an average 13-year-old boy would do," Mr Fullwood said.
Hannah von Dadelszen, deputy chief crown prosecutor for Crown Prosecution Service (CPS) in the east of England, added: "We also had... evidence to show that he had killed a bird and laid it out spread-eagled in a manner perhaps reminiscent of how Rikki Neave's body was treated after his killing."
Rikki's other half-sister, Sheradyn, said some of the evidence about Watson was known in 1994 but "they [the police] chose to ignore that".
"They chose to shut that down and they chose to go with Ruth instead and I think that's disappointing," she said.
"I think that we were let down by the police at the time, let down by social services, let down by everyone that was in our lives that were meant to care."
Watson was arrested on suspicion of murder in April 2016.
He was, by that stage, a serial offender with a criminal record that included an arson attack at a British Transport Police police station in 2008.
Released on police bail, Watson became restless, telling his subsequent trial that faced with uncertainty he wanted "a change" in his "immediate situation".
Three months after his arrest he left the UK in a motorhome via the Dover ferry port with another bail hostel resident.
He travelled first to Rotterdam, then France and over the Pyrenees to Portugal.
From France he contacted his sister, Clair Perna.
He told her, she said, that he "was in a lot of trouble and he had made a huge mistake".
She said: "Next time he rang, he said, 'I need help. I'm in more trouble than I imagined and I need to get back to the UK'."
Watson was eventually re-arrested near the British embassy in Lisbon.
Watson's trip abroad was extensively covered in the media, coupled with pictures of him on beaches.
Seeing pictures of Watson abroad angered Rikki's family.
"We saw it all, the fact that he was plastering his face all over the papers, bragging about how he's got out of the country," said Sheradyn.
Rochelle added: "It made me angry because I thought well if you're not guilty of murder why would you run away? Why would you want to go and leave the country when you've had your passport taken off you?"
Prosecutors felt there was not enough evidence to charge him with Rikki's murder.
That decision was overturned after Rikki's family lodged an appeal under the Victims' Right to Review (VRR) scheme.
Watson has now been found guilty of Rikki's murder.
Those involved in the case say if nothing else, it proves that justice can catch up with those who commit crimes.
Ms von Dadelszen acknowledged the "case has been characterised by challenge", but added what Watson's conviction "does show is that cold cases are not immune to prosecution".
For her, the guilty verdict gives way to a "moment of reflection".
"Rikki would have been 34 years old, he may have had a family of his own and he's missed out on an opportunity to have a life because of the actions of James Watson," she said.
We might never know exactly why Watson killed young Rikki.
Mr Fullwood believes although there were no signs of a sexual assault, the motivation for the killing might well have been sexual.
"The murderer strangled [Rikki], stripped his clothes and laid him out in this particular pose," he said. "We believe that is for sexual gratification and we believe James Watson did that."
"I think any death of a human being is tragic. It's awful. But the death of a six-year-old boy in these circumstances is horrific.
"The family have lost their son, sisters have lost their brother, friends have lost their friend. It's a tragic awful case.
"It's a case, hopefully, that we will never, ever see again, certainly in Cambridgeshire.
"Also I'd like to think by bringing James Watson to justice will bring some closure for the family so they can move on with their lives and remember Rikki for the little boy he was in 1994."
For Rochelle the guilty verdict is a "victory".
"He thought he got away with that for many years, he thought that we were just going to go away and roll under the table and we weren't," she said.
"It was about Rikki's justice, of course, but it was about the community as well. We're not just gonna lay down and take it that people are going around killing children and it's OK.
"It's not OK, we're not gonna lay down and take it."
This story was originally published following Watson's conviction in April 2022. On 24 June at the Old Bailey, he was jailed for a minimum of 15 years.