Transplant mum reunited with sons after six months in Papworth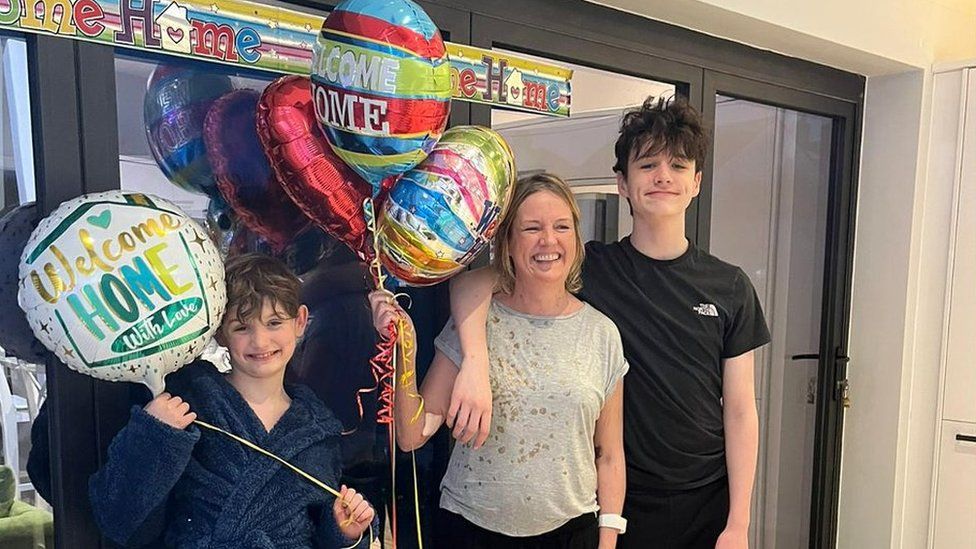 A mum has been reunited with her two sons after spending more than six months in hospital for a heart transplant.
Nicola Sharpe, 48, from Southend, Essex, was admitted to Royal Papworth Hospital in Cambridge in August for heart failure treatment and remained there after a series of complications.
After 190 days she has been reunited with her sons, aged nine and 12.
Ms Sharpe said she thought the day "would never come".
Due to Covid restrictions, Ms Sharpe rarely saw her children during her hospital stay, the majority of which was spent in critical care.
"That first hug with my boys is one of the most special moments in my life; it's the moment that has been keeping me going - it felt like it lasted forever," she said.
"There have been many moments when I thought this day would never come."
Her husband Peter died seven years ago from a sudden and unexplained heart condition and Ms Sharpe said that gave her extra determination to recover as she "did not want [her sons] to lose both parents".
"They have asked me some pretty tough questions, like 'are you going to die like dad?' and 'how will we live without you?'," she said.
"That has given me even more willpower to survive."
Ms Sharpe became breathless on a run in July 2020, but did not seek advice until September that year when the same thing happened again.
She was diagnosed with dilated cardiomyopathy at Southend University Hospital and referred to Royal Papworth - the world-renowned centre for heart transplants and treatment.
Her condition deteriorated and she was fitted with a pacemaker, but in August 2021 she was readmitted to Papworth after blood tests indicated further problems.
She suffered a cardiac arrest while in hospital which damaged her heart making her ineligible for other treatments.
High lung pressure also meant she was unsuitable for transplant at one point and was referred for palliative care.
The transplant team came up with a new plan and she was fitted with a BiVAD - a pump that supports both sides of the heart.
She received a transplant in January.
Consultant transplant surgeon, Steven Tsui, said: "Nicola's course of illness has had more ups and downs than most rollercoaster rides.
"Against all the odds, she has made it and what a wonderful moment to see her reunited with her sons."
Ms Sharpe and Mr Tsui urged others to talk to their families about organ donation to help save more people.
Related Internet Links
The BBC is not responsible for the content of external sites.