Cambridgeshire guided busway: Council accused of failures in claim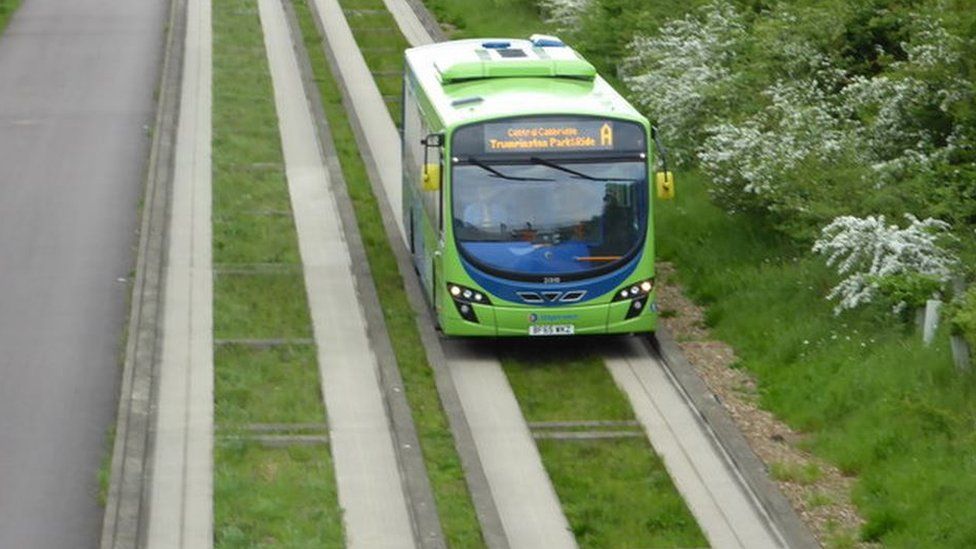 A council has been accused of "substantially" failing over its claims the world's longest guided busway has £87m worth of defects.
Cambridgeshire County Council is locked in a High Court battle with constructor BAM Nuttall over the busway, which links St Ives to Cambridge.
In court documents, BAM Nuttall said "allegations extensively amount to bare assertions... without explanation".
The county council said it was unable to comment on the legal proceedings.
The busway opened in 2011 after delays and financial rows and the county council settled a £36m dispute against BAM Nuttall in 2014.
It has taken further action and in 2020 said that on the balance of probabilities, the foundations would not meet the required lifespan of 40 years.
In a court document released earlier this month, BAM Nuttall said the council alleged the busway "in particular the guideway sections, have extensive defects requiring it to be almost entirely redesigned, dismantled and reconstructed at an assessed cost of around £87,000,000".
It added: "Notwithstanding the demonstrable success of the [busway], the supervisor and/or the council have orchestrated a prolonged and repeated inquiry into it and its principal defect notifications and claims have changed and evolved over many years."
BAM Nuttall said the allegations of defects are "poorly and inadequately explained" and that during a six-year pre-action period defect notices and project manager assessments had been withdrawn.
"Despite this extended process of change, the council has substantially failed to plead its extensive allegations of defective design with any proper particularity," the document revealed.
"The council's allegations extensively amount to bare assertions of non-compliance with provisions of the works information or incorporated standards without explanation."
In this financial year, the council said litigation costs related to the guided busway are expected to be £3.2m.
Related Internet Links
The BBC is not responsible for the content of external sites.