Cambridge University Stem support for Covid-hit students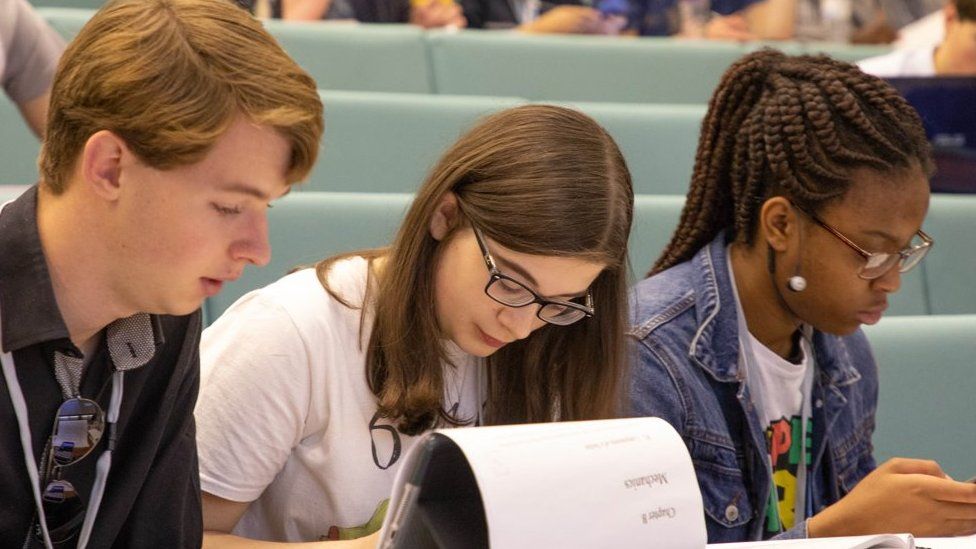 About 750 state school A-level science and maths students are expected to take part in a Cambridge University scheme to bridge the gap in their education during the coronavirus pandemic.
Tuition by academics and a stay at a Cambridge college will be offered during the free 17-month programme.
The aim is to "build confidence in disadvantaged students" encouraging applications to "leading universities".
The scheme is run by the university and the Department for Education.
Cambridge University said the initiative was open to "maths, physics and chemistry A-level (or equivalent) students at non-fee-paying schools from widening participation backgrounds".
"This will include students who live in areas of high deprivation, those who have been eligible for free school meals at any point during their secondary schooling, those who are care-experienced, those at schools unable to offer further mathematics as an A-level, and mature students who are self-studying, among others," the university said.
The Stem Smart scheme (science, technology, engineering and mathematics/subject mastery and attainment raising tuition) will include online tutorials, small group supervisions, mentoring and a residential stay at a Cambridge college.
Beginning in January, students will be supported from the second term of Year 12 to their Year 13 A-level examinations in a bid to reduce attainment gaps caused by interruptions to education during the pandemic.
Prof Stephen Toope, vice-chancellor at Cambridge University, said: "Covid continues to exacerbate existing inequalities in education, and many schools face an unprecedented challenge dealing with the legacy of the pandemic.
"As part of the university's mission to contribute to society through the pursuit of learning, the Stem Smart programme will bolster the studies of A-level students at non-fee-paying schools, from their first year all the way through to their exams."
The support on offer was, he said, "for those talented students who need it most, at a time when it is needed more than ever".
The university said it was "in touch with about 3,000 state schools across the UK about Stem Smart, and aims to enrol around 750 A-level students for the start of the pilot".
David Buckley, head of physics at Mayflower High School in Billericay, Essex, said: "Our students have had an unprecedented, difficult time in their education, so this additional tuition - the extra time and detail that teachers want to give but because of the demands of the job sometimes can't - is hugely welcome, particularly now."
Related Internet Links
The BBC is not responsible for the content of external sites.