Covid pressure: Thistlemoor surgery deals with patient rise
By Ben Schofield
BBC East
Increasing patient numbers and a shortage of GPs is putting more and more pressure on doctor's surgeries across the country. The BBC visited one NHS medical centre in Peterborough to see how it is coping.
'Please be kind'
Before the pandemic, the Thistlemoor Medical Centre was dealing with a daily average of 353 patient appointments (in person, phone or online).
Between January and May this year, that had risen to 544 appointments - a rise of more than 50%.
Dr Neil Modha, a GP at the surgery, says the issue is a problem across the NHS, with both patients and staff struggling as a result of the pandemic.
He says the surgery is dealing with a higher number of mental health issues, while ongoing conditions that might otherwise have been resolved are now being referred back to GP surgeries.
His message to patients is "please do contact us, but understand we are busy".
Dr Modha says there have been occasions when "frustrated" patients had been "quite abusive to staff".
"We understand why that is," he adds. "There are a lot of mental health and anxiety problems.
"Over the last few months there have been more and more episodes where people have been unhappy and frustrated.
"I completely recognise why, but when you are reaching out to people to help you, just treat them in the way you want to be treated.
"Morale can be quite low. We are doing our best to give a service to our patients, but also to protect our staff."
Thistlemoor, in the New England area of the city, has had to recruit more doctors, with two working their first day on Wednesday. Dr Modha says the centre is taking on another five trainees as well.
It now has 15 GPs and five trainees in total.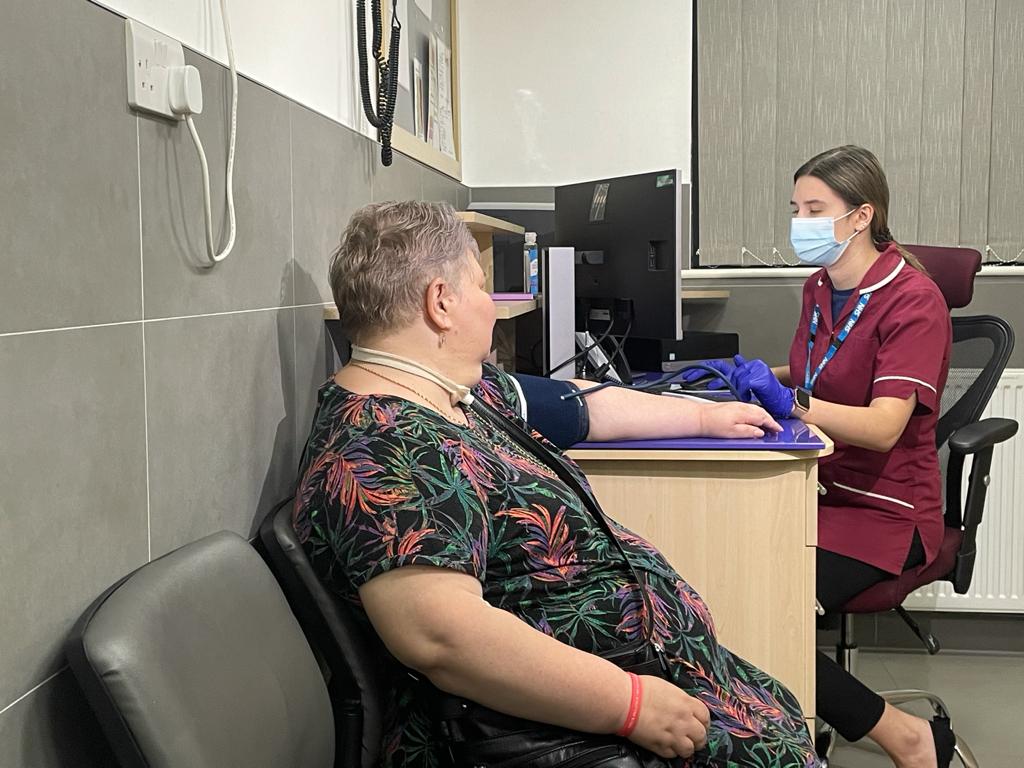 BBC
Increased pressure at GP surgeries
54%Increase in average daily appointments at Thistlemoor Medical Centre in Jan-May 2021, compared to before the pandemic
11,000Telephone appointments at Thislemoor last month - 4,000 were face-to-face

462,117Patient appointments across Cambridgeshire and Peterborough in June 2021

400,021Appointments for the same area in May 2021
Source: NHS Cambridgeshire and Peterborough CCG
The GP says a combination of the summer holidays and an increase in the number of staff having to self-isolate due to being "pinged" on the NHS Covid app has created more pressure.
"There are now rules in place so we can take steps to get our staff back to work, but there has been a problem," he says.
Dr Modha says recruiting more staff "is part of the solution".
"Expecting the same staff to just work harder isn't the answer," he says. "Many GP practices are recruiting physiotherapists, pharmacists, more doctors and that has to be part of the strategy.
"Part of it is also thinking 'how can we get the population to care for themselves a little bit more'?
"If they've got straightforward problems, sometimes you don't need a GP. We need to provide information and education videos to allow the population to care for itself a bit more."
'We deal with 1,000 calls a day'
Health care assistant, Aukse Kabasinskaite, says the medical centre has "definitely been busy".
It is a scenario that is repeating itself throughout the country.
Maria Costa, who works as a call handler and receptionist at Thistlemoor, says she can deal with up to 300 calls from patients, "maybe more," every day.
She says the surgery has three people answering calls, meaning it fields around 1,000 a day.
"It's really busy," she says. "We try to encourage patients to use Engage Consult which is a lot easier.
"Instead of them being on a line waiting for a long period of time, they can request a phone consultation. It's easier for the patients and not so much pressure on the phone.
"It can be really stressful because patients say they are frustrated with the pandemic. They want answers straight away.
"They don't want to wait; they need this now and they don't like to hear us say 'I can book you in next day or next week'.
"The demand is so high and it is not possible to answer all the requests from patients."
'We've had good care'
Laura Gecaite is visiting the surgery with her seven-year-old son Alnatin.
He woke up with earache and as he was "very poorly when he was born" and can get ill quickly, she did not want to wait.
The surgery was able to see Alnatin on the day.
"On the phone they said they needed to see him because it is an ear and they needed to check inside to see if he has an infection," she says.
"We've had good care. I was worried we wouldn't be able to see a doctor.
"Nowadays there are a lot of patients who are poorly and a lot of waiting time most of the time.
"We are waiting on the phone sometimes for an hour. Sometimes you get cut off, but we do know there is pressure on the doctors as well."
The BBC is not responsible for the content of external sites.