Fowlmere crash: Heath Cooksey jailed after killing motorcyclist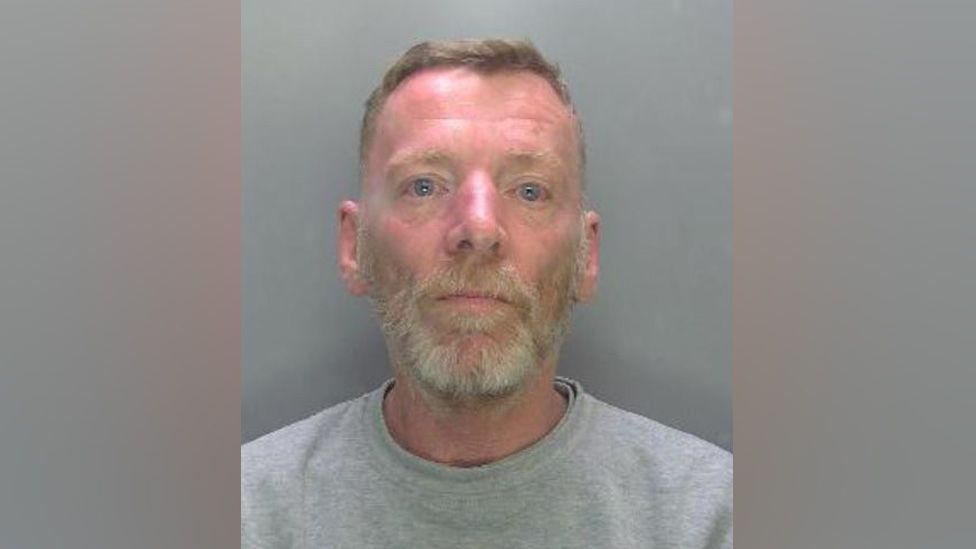 A disqualified driver who fled the scene and went to the pub after killing a motorcyclist in a crash has been jailed for three years.
Heath Cooksey knocked Paul Wood off his Kawasaki on the A505 near Fowlmere, Cambridgeshire, on 24 May 2019.
The 23-year-old died at the scene.
Cooksey, 53, of St Neots Road in Romford, east London, was found guilty in March of causing death by careless driving.
Prosecuting, Samantha Wright, told Cambridge Crown Court that Cooksey had decided to turn his Land Rover around on the A505, indicating right into a driveway.
Mr Wood, from Duxford, was several vehicles behind but made the decision to overtake the slowing traffic.
Cooksey's vehicle clipped the motorcycle and Mr Wood was thrown across it.
Ms Wright said Cooksey smoked a cigarette after the crash before he ran away. He hid in some trees and walked to Cambridge.
He made his way back to Romford where he went to a pub before handing himself in at a police station later that evening.
In a victim impact statement read out in court, the victim's mother, Helen Wood, wrote: "His life was just beginning - he had so many plans."
His father - also called Paul Wood - said his son "had a bright future - prematurely ended".
"A sadness has descended on the household," he said.
Mitigating, Cooksey's defence counsel Lennart Poulsen, said: "Mr Cooksey has, from the outset, expressed his extreme remorse and guilt about what happened.
"He offers absolutely no excuse.
"All he can say is he is deeply, deeply remorseful."
Judge Jonathan Cooper described Cooksey as "devious and untrustworthy", and told him: "You have a bad record for driving offences that have resulted in disqualification and even prison sentences.
"You saw, you say, the motorcycle coming but you thought you could complete your manoeuvre," he said.
However, he said Mr Wood had "made the decision to exceed the speed limit" while overtaking the vehicles behind Cooksey's car.
He offered his "heartfelt condolences" to the Wood family and said they had shown "dignity" throughout the proceedings.
Mr Wood would have "died knowing of their love for him", the judge said.
However, he added: "No sentence I pass will ever reflect that loss of human life."
Cooksey was found guilty of causing death by careless driving, causing death while disqualified from driving and death while driving uninsured.
He admitted failing to stop at the scene of the collision.
Alongside his three-year jail sentence, he was disqualified from driving for four-and-a-half years.
Related Internet Links
The BBC is not responsible for the content of external sites.