Cambridgeshire Police officer left with bleed on the brain from punch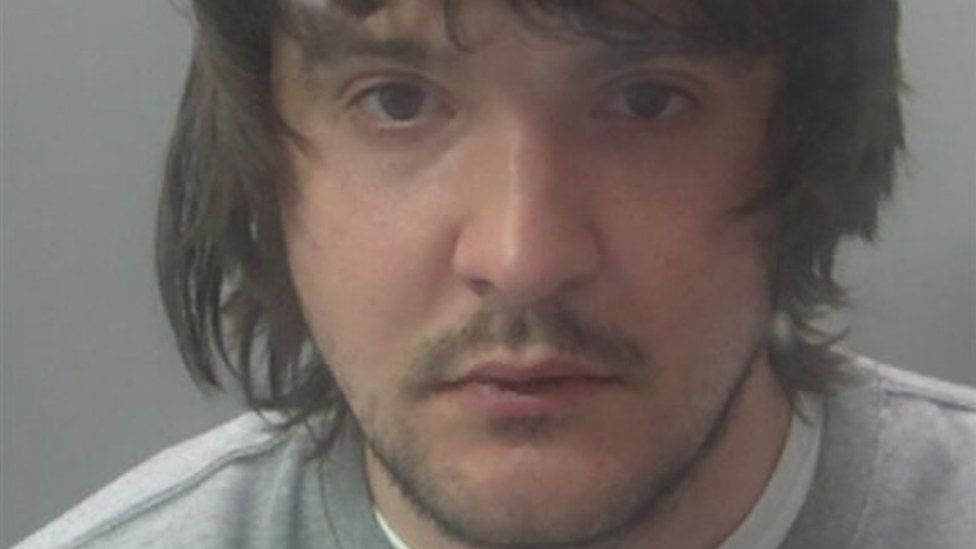 A man has been jailed for punching a police officer and causing him a serious bleed on the brain.
Joshua Gull, 27, hit PC Leo Clarke in Peterborough on 8 February, when the officer was called to the defendant's grandmother's home on his own.
Peterborough Crown Court was told PC Clarke had to have surgery and has "life-changing" injuries.
Gull, from Oundle in Northamptonshire, was jailed for 20 months after pleading guilty to causing grievous bodily harm.
Prosecutor Michael Procter told the court the Cambridgeshire Police officer attended the Ledbury Road property and "from the outset the defendant appear[ed] to be behaving in an aggressive way".
Warning: Graphic images of stitches in head appear below
Gull, of Herne Road, made reference to the officer's body-worn camera and then later threw several punches but only one connected.
Mr Procter said PC Clarke asked for back-up and after the incident he "appeared to be all right, but then it was noticed he wasn't and he was taken to Addenbrooke's Hospital where he was found to have suffered a bleed on the brain".
In a victim impact statement read in court, the 24-year-old officer said he had been advised there would be a "slow and long recovery".
He has had his driving licence removed for six months because of double vision and said he would "love" to return to his job but had been left "feeling like a burden" on those around him.
Mitigating, Charles Falk told the court that Gull, who had no previous convictions and only one caution, was in the middle of a "mental health crisis" at the time of the offence.
Mr Falk said Gull had emotionally unstable personality disorder and despite GPs urging the local authority to grant funding for help, this had been refused.
He added that PC Clarke "clearly had not been briefed on this defendant" and "deserved at the very least" another officer to assist.
Judge Sean Enright said Gull's life and that of his family had been "dominated" by his mental health.
But, when deciding whether to suspend the sentence, the judge said he felt the defendant had the ability to control himself.
A Cambridgeshire Police spokeswoman said: "In this case, PC Leo Clarke was sadly met with violence and we will take on board any learnings we can to try and prevent an incident like this from happening again.
"Our full support goes to PC Clarke and his family while he recovers."
Liz Groom, chair of Cambridgeshire Police Federation, said she was "saddened and stunned" by the sentence imposed on Gull.
"Leo quite simply could have died had his colleagues missed his sudden and rapid deterioration on his return to the station, due to a bleed on the brain caused by being assaulted," she said.
Related Internet Links
The BBC is not responsible for the content of external sites.