Peterborough Eye roundabout: Three men dead in car crash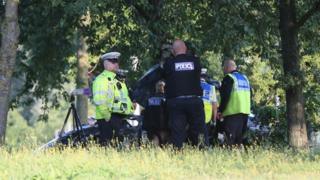 Three men have died after a car crashed on to a roundabout.
The accident happened at about 23:00 BST on Monday when the car crashed off the A1139 Frank Perkins Parkway in Peterborough and ended up in the middle of Eye roundabout.
All three men in the BMW 3 Series died at the scene, police said.
The road was closed for several hours but was reopened at about 09:00 on Tuesday. Police have appealed for dash-cam footage of the incident.
Witness Thomas Howlett, who had pulled up at traffic lights on the roundabout, saw the accident happen and was the first person at the scene, as the Peterborough Telegraph reported.
"I heard a screech and the car flew across the bonnet of my own, mounted the kerb and crashed on the roundabout," he told the BBC.
Mr Howlett said he and his friend tried to help and called 999.
"There was a passing police officer taking someone to custody and she stopped and immediately started giving CPR to the people," he said.
"The emergency services were there so quickly - I cannot tell you how impressed I was with what they had to do last night."
Writing later on social media about the fatal crash, Mr Howlett said: "What I saw was horrifying, they didn't make it - all three died."
Cambridgeshire Police said the next-of-kin of the deceased were being supported by specialist officers.