Wisbech St Mary fire: Three ponies die as barns destroyed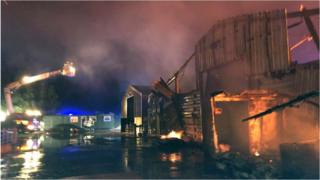 Three ponies have died after barns and 100 tonnes of straw went up in flames at a farm overnight.
Firefighters from Cambridgeshire, Norfolk and Lincolnshire were called just after midnight to tackle the blaze at Wisbech St Mary, Cambridgeshire.
The animals died and two of the barns were completely destroyed.
The Cambridgeshire service said firefighters faced a "significant risk" as a cylinder containing "highly explosive" acetylene was involved.
At the height of the blaze more than 50 firefighters were involved in tackling the flames.
At 06:00 BST about 30 tonnes of straw was still burning and two fire engines remain at the farm.
Roads are closed from the junction of High Road and Rummers Lane while crews deal with the blaze and members of the public have been advised to keep doors and windows closed.
A Cambridgeshire Fire Service spokesman said no injuries had been reported and firefighters were able to save one of the barns from extensive damage.
He said: "The fire also affected farming machinery and equipment."