Linton railings crash escape leaves police 'speechless'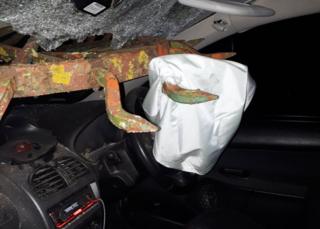 Police officers were left "speechless" that a driver and his passenger were uninjured when railings pierced their windscreen.
The car, driven by a male who passed his test weeks ago, crashed on a frosty road near a water pumping station in Linton, Cambridgeshire, on Friday.
He had a front-seat passenger and police said they were "thankfully going home to their families uninjured".
The roads policing team for the area said: "Please drive to the conditions".